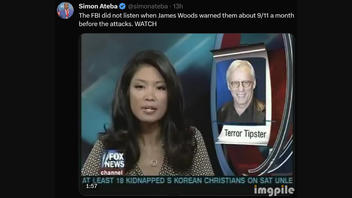 Did actor James Woods warn the FBI about 9/11 a month before it happened? No, that's not true: Woods said in the same interview being used to make this claim that he "did not report this to the FBI before September 11" and denies the idea that he told the FBI about his suspicions and they did nothing: "That's completely and utterly wrong."
The claim appeared on X, formerly Twitter, published on September 11, 2023 (archived here). Its caption is:
The FBI did not listen when James Woods warned them about 9/11 a month before the attacks. WATCH
This is what the post looked like on X at the time of writing: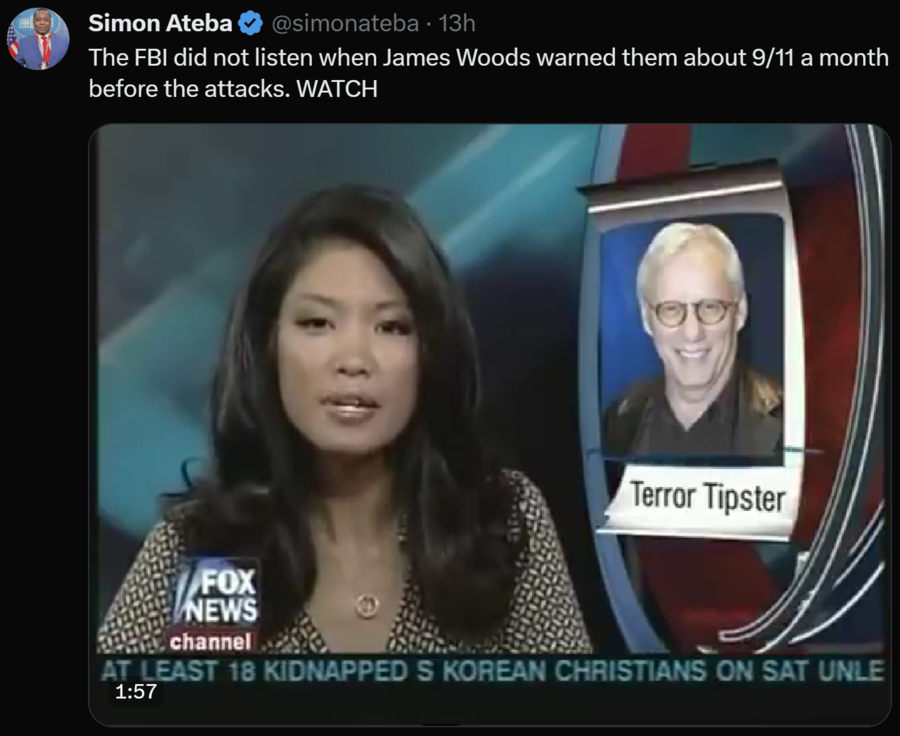 (Source: X screenshot taken on Tue Sep 12 17:47:51 2023 UTC)
The video in the post is a news segment with Woods speaking to former Fox News host Bill O'Reilly about an August 2001 flight he took where he suspected some strange-acting Middle Eastern men were hijackers and told the flight crew of his suspicions. In the almost-seven-minute clip, Woods tells O'Reilly that when he reported it to the FBI after the September 11, 2001, attacks, FBI agents visited his house to question him about the men he saw. Woods adds that the FBI could not tell him whether his suspicions were correct or not, but he was led to believe by a third party "that all four of them were terrorists involved."
The clip posted on X is missing a key element. In the full interview (archived here), Woods states at the 1:28 mark, "When 9/11 happened, we were all stunned and we all happened to be at my house that evening, and my friend Scott said to me, 'You know, remember that flight you took in August?' And I said 'Yeah, I've been thinking about it all day.' And he said, 'Well, maybe you should call the FBI.'" Woods' friend encouraged him to call the FBI after the attacks, not before. This quote was not featured in the X post.
At 5:02, Woods interrupts O'Reilly to set the record straight. Woods makes it clear that he did not report this incident to the FBI before 9/11:
I did not report this to the FBI before September 11th.
Later at 5:19, Woods defends the FBI from people who take "pot shots" by saying:
They'll say, 'Oh, you told the FBI and they didn't do anything.' That's completely and utterly wrong.
This quote also debunks the notion that the FBI received the tip from Woods and did nothing about it.
Other Lead Stories fact checks on 9/11 can be found here.