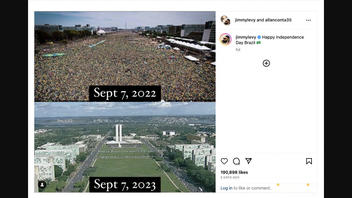 Does a collage from social media prove that nobody showed up to celebrate Brazil's Independence Day in the country's capital in 2023? No, that's not true: The composite image shared on social media does not contain any photos from 2023.
The claim originated from a post (archived here) on Instagram on September 7, 2023. It opened:
Happy Independence Day Brazil 🇧🇷
Here is what it looked like at the time of writing: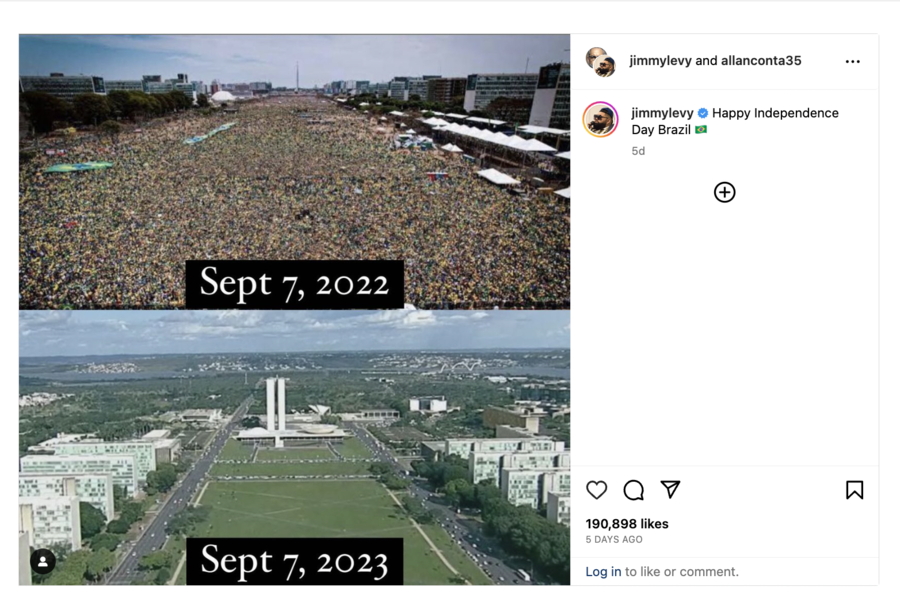 (Source: Instagram screenshot taken on Wed Sep 13 19:14:19 2023 UTC)
Both pictures in the collage showed the mall in Brasilia, the nation's capital. But the implied claim that people skipped the country's birthday en masse in 2023 wasn't true.
The top picture from the composite image is in the Reuters database. It was taken by a third party, a news agency's representative told Lead Stories via email on September 13, 2023. The spokesperson also provided an uncropped version of the photo to review. It showed a podium on a truck with an attached banner referring to Brazil's 200th anniversary. That was indeed celebrated on September 7, 2022.
However, the original caption -- also provided by the Reuters representative -- made it clear that the image showed more than just another Independence Day:
Supporters of Brazil's President Jair Bolsonaro attend a reelection campaign rally during Independence Day celebrations, in Brasilia.
A Reuters report from that day explained that it caused a controversy:
President Jair Bolsonaro mingled military parades on Brazil's Independence Day with political rallies in Rio de Janeiro and Brasilia on Wednesday, firing up hundreds of thousands of supporters less than a month before a heated election.

Opponents and legal experts criticized the far-right leader for co-opting public celebrations of Brazil's bicentennial to serve his re-election campaign, in which polls show him trailing leftist rival Luiz Inacio Lula da Silva ahead of a Oct. 2 vote.
The article also pointed out:
... authorities maintained a tight security cordon to keep Bolsonaro supporters from advancing toward the Supreme Court.
The pictures in the collage show different sides of Brasilia's mall, with the top one pointing in the opposite direction of the Supreme Court located behind the building of Congress seen in the second photo. This by itself makes the supposed comparison irrelevant.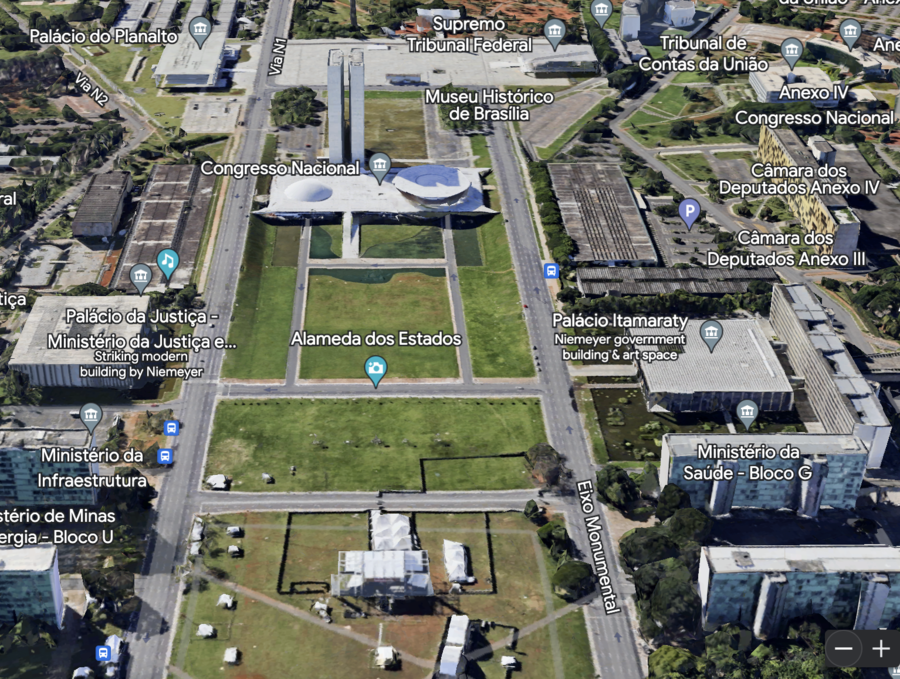 (Source: Google Earth screenshot taken on Wed Sep 13 19:50:19 2023 UTC)
The bottom image looking in the direction of the Supreme Court was taken before 2023; it was printed with several news articles that used it in 2022. Here is one example seen on the website of Globo, one of the major region's publications: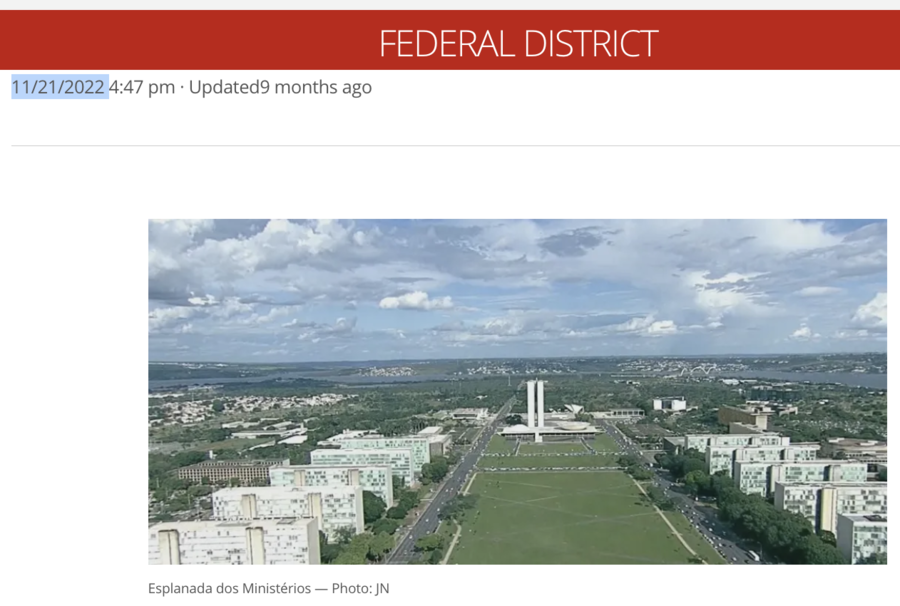 (Source: Globo screenshot taken on Wed Sep 13 16:48:05 2023 UTC)
In 2023, Independence Day in Brazil was not an event nobody showed up for, as proven by numerous news reports from major media outlets. While it's unclear how many people gathered at the mall, the screenshots from a video originally broadcast live confirm that the event attracted some crowds: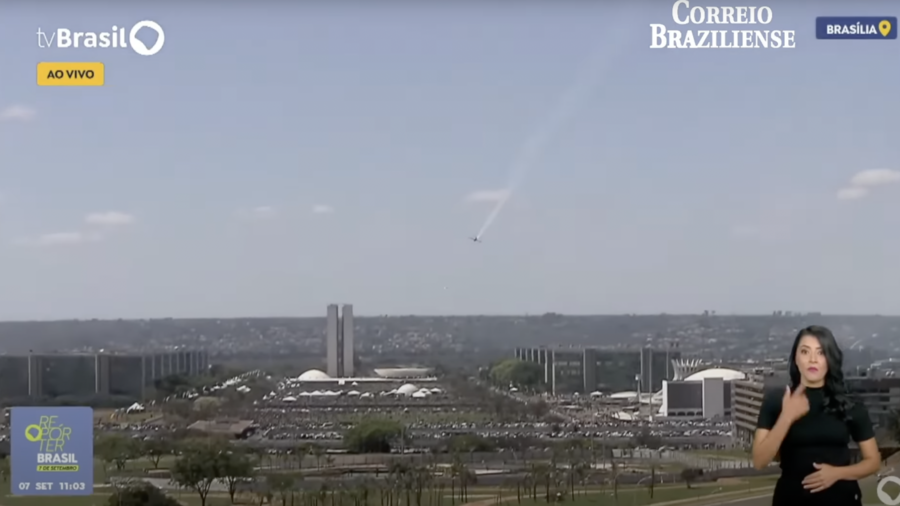 (Source: YouTube screenshot taken on Wed Sep 13 14:54:49 2023 UTC)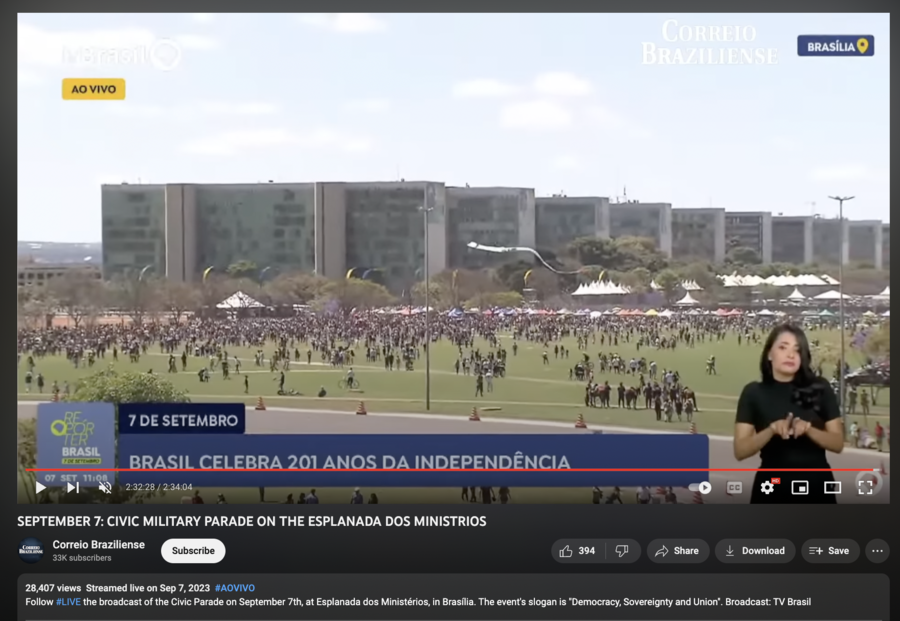 (Source: YouTube screenshot taken on Wed Sep 13 14:56:29 2023 UTC)
Other Lead Stories fact checks about Brazil can be found here.