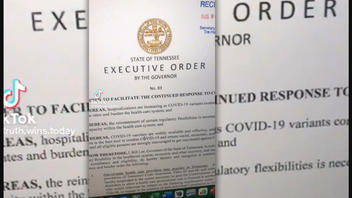 Did Tennessee Gov. Bill Lee sign an executive order, around September 2023, to build quarantine internment camps as has been done in many other states at the same time, supposedly? No, that's not true: This TikTok video was first posted on August 17, 2021, shortly after Tennessee Executive Order No. 83 was issued. The executive order (EO) was extended twice and eventually expired on November 19, 2021. When the order was issued there were many rumors that misconstrued elements of the executive order, notably that it ordered the construction of quarantine camps -- it did not. There is no September 2023 move "across America" to build quarantine internment camps by state executive order.
Lee's EO No. 83 (PDF) took effect on August 6, 2021, and was set to expire on October 5, 2021. It was then extended with EO No. 88, and extended again with EO No. 90, which set the expiration ultimately for November 19, 2021.
A video about EO No. 83 was posted on TikTok (archived here) by @cprmissions on August 17, 2021. The narrator of the video highlighted and misrepresented several of the provisions in the order. Over two years later, on September 11, 2023, DR. Kek @Thekeksociety resurfaced this old video (archived here) on X (formerly Twitter). The resurfaced video bears the TikTok watermark of another account @truth.wins.today, which is not currently available. The @Thekeksociety post was captioned:
MANY STATES HAVE RECENTLY SIGNED EXECUTIVE ORDERS TO BUILD QUARANTINE INTERNMENT CAMPS ACROSS AMERICA! THIS IS FRIGHTENING! WHAT ARE THEY PLANNING?
This is what the post looked like on X at the time of writing: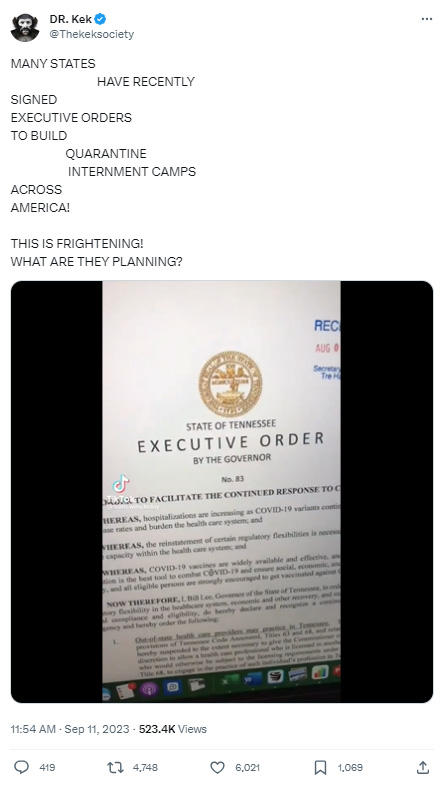 (Source: X screenshot taken on Wed Sep 13 14:06:36 2023 UTC)
Lee had signed EO No. 83. on a Friday. The following Sunday, Greg Locke, the right-wing pastor of the Global Vision Bible Church in Mount Juliet, Tennessee, made the governor and the EO a topic in his August 8, 2021, sermon. At 1:41:14 in (video here, archived here) Locke says:
Why don't you look at section eight of what he signed. They have authorized FEMA, y'all hearing me? ... fan all you want it's about to get hot! ... They have authorized the Tennessee Department of FEMA to build what they call, in his own authorized pages of a signature -- quarantine camps. I ain't talking about East Germany, I am talking about Tennessee! Quarantine camps for the uninformed people that are still in refusal to be vaccinated. Look, if that don't bother you, you might as well show up at another church next week.
This false claim by Locke was debunked by Snopes on August 12, 2021.
That same day an article titled, "Quarantine camps? Governor's top lobbyist dispels myths about executive order" (archived here) was published in the Tennessee Journal's "On The Hill" government and politics segment. The article contains the full text of a "high importance" memo written by Lee's top legislative lobbyist, Brent Easley, to members of the Tennessee General Assembly. Easley's letter lists five frequently shared conspiracy theories and rumors about the executive order:
-- The EO creates 'quarantine camps' - FALSE.

-- Tennesseans serving in the National Guard will be used to round up citizens that are unvaccinated and take them to locations to be quarantined or vaccinated - FALSE.

-- Tennesseans serving in the National Guard will be coming to forcibly vaccinate citizens in their homes - FALSE - This is specifically prohibited by state law as well.

-- This executive order is laying the groundwork for permanent lockdowns - FALSE.

-- That Covid-19 vaccines are being given to livestock so it will enter the -food supply to vaccinate citizens through their meat consumption - FALSE.
Locke misspoke when he cited section eight of EO No. 83. The section he inaccurately represented was section 18 (below). This section did not mandate the construction of quarantine and isolation facilities, nor did it call them camps. It removed the permitting and approval barriers of the Tennessee code that might stand in the way of setting up alternate care sites if needed.
18. Temporary quarantine and isolation facilities may be constructed. The provisions of Tennessee Code Annotated, Section 68-11-202(c)(1)-(8), are hereby suspended to allow for the construction of temporary structures, the plans for which would otherwise be subject to review for new construction, additions, or substantial alterations, as directed by the Commissioner of Health and the Director of TEMA in response to COVID-19; provided, that there shall be inspections of such structures to ensure safety, as necessary.
In his memo to lawmakers Easley explained the rationale behind section 18 this way:
Section 18 is related to healthcare facility policies, and provides flexibility for hospitals to set up alternate care sites on their grounds such as tents in parking lots or use of a conference room to treat patients. This flexibility was included so that medical facilities can have this tool in their toolbox if extra space is needed.
The claim that many states have in September of 2023 signed executive orders to build internment camps is baseless. At the time of writing, a Google search for the phrase "Executive order to build internment camps" returns results about President Franklin Delano Roosevelt's February 1942 EO 9066, which resulted in the internment of Japanese Americans, and a few articles addressing the false claims of Locke in 2021.
The individual websites for each state governor, where the most up-to-date list of executive orders for each state will be found, can be accessed through the drop-down menu at usa.gov/state-governor. An April 7, 2020, article titled, "COVID-19 Executive Orders Tracker for the 50 States" from the American Legislative Exchange Council lists the stay-at-home orders issued by state governors early in the COVID pandemic. The website of the Council of State Governments was last updated in April 2022. Listed there are links to executive orders from all 50 states that were issued in the years 2020 - 2021, and some from 2022 on a separate page. These can be filtered by state or topic.