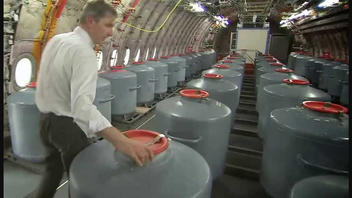 Does a photo of barrels inside the fuselage of a plane show anything strange or is it legitimately unclear what they are for? Nope, these are just water ballast tanks that allow a test plane to be loaded with weight which can be distributed in specific areas. The photo seen on social media is actually a screengrab from a video that explains the entire process.
The photo was posted (archived here) on X (formerly Twitter) by "DR. Kek" on September 24, 2023. It was captioned:
TH EY MUST BE JUST FERMENTING WINE OR SOMETHING?
This is what the post looked like on Twitter at the time of writing:

(Source: Twitter screenshot taken on Mon Sep 25 14:39:23 2023 UTC)
This photo shows the interior of a prototype Airbus A350 XWB full of flight-test instrumentation in preparation for its maiden flight, which took place on June 14, 2013. The Trent XWB (archived here) is the name of the Rolls Royce turbofan engine that powers the widebody plane.
This is a screengrab from a 03:05 minute long video posted on YouTube by the official Airbus channel on June 13, 2013 (embedded below). The man in the photo is Patrick du Ché, a flight test engineer. In this video he guides a cameraperson on a tour through the test plane explaining some of the instrumentation; including cameras, computer stations for the data relays to the control center on the ground, and another separate control station for the engineer monitoring the engines. At 02:05 minutes in, du Ché enters the part of the plane with the water ballast tanks. He says:
And we arrive in this area. Today we don't have any seats. We have this ... these are water ballast, so you can fill those ones and you can consider that each one of them, it's close to 300 kilograms. It's important to be able to change the load plan of the aircraft thanks to those big water ballast.
Not all ballast tanks are shaped like the ones in the Airbus A350 test plane. In a February 10, 2010, article in Wired, "Take a Peek Inside the 747-8 Test Plane"(archived here) the water ballast tanks are shaped differently (pictured below) but perform the same function:
These tanks are filled with water and engineers can transfer water between the tanks during flight to shift the weight of simulated cargo or passengers. The center of gravity, or CG as pilots call it, is important to the flight characteristics of any airplane. During flight test, Boeing must ensure the plane is safe and efficient at full forward and full aft CG as well as any combination between the two.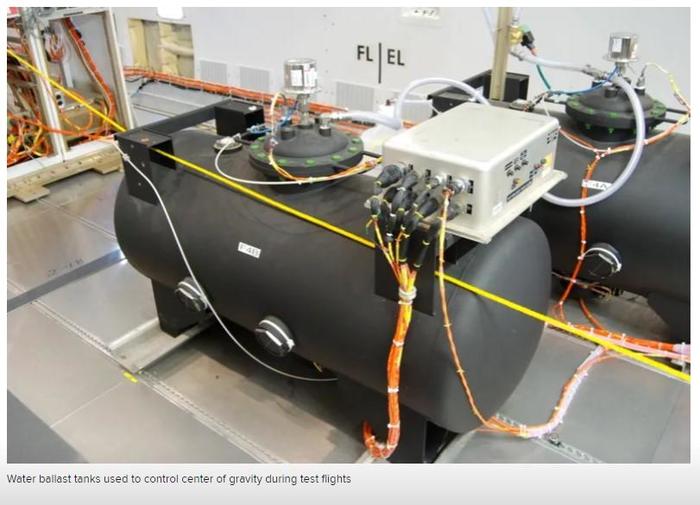 (Image source: Wired screenshot taken on Mon Sep 25 16:07:12 2023 UTC)
Lead Stories has debunked false claims in the past that misrepresented photos of ballast tanks and other aeronautical equipment, such as a drogue of a long trailing antenna or tanks in military mosquito control planes, as evidence supporting the baseless "chemtrail" spraying conspiracy. Additional Lead Stories articles (here) address a variety of "chemtrail" conspiracy claims.