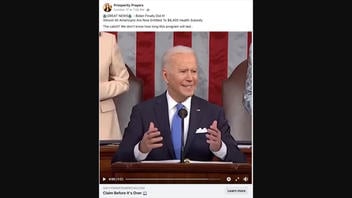 Did President Joe Biden endorse a plan by the federal government to distribute a "health subsidy" worth up to $6,400, with every American qualifying for the payment after watching a video shared on Facebook? No, that's not true: The claim that the government is freely giving out health benefits worth thousands of dollars is a scam. Such scams are usually attached to an ad asking whether a person needs federal assistance or insurance. Biden, who purportedly backed the plans, did not post such an endorsement on the official White House social media channels.
The claim originated in a video (archived here) posted on Facebook on October 17, 2023, with a caption that read:
GREAT NEWS - Biden Finally Did It!

Almost All Americans Are Now Entitled To $6,400 Health Subsidy

The catch? We don't know how long this program will last..
Below is how the post appeared at the time of writing: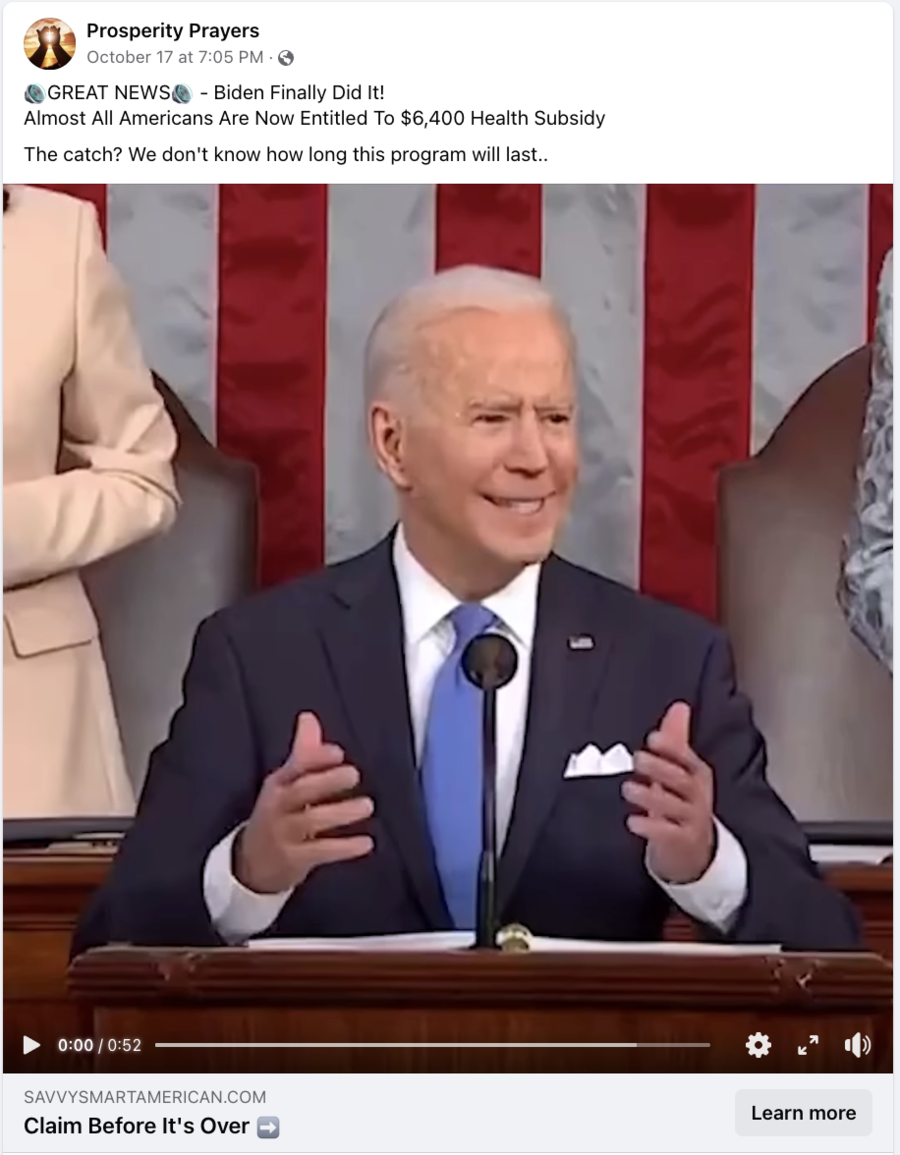 (Source: Facebook screenshot taken Fri Oct 27 20:54:08 UTC 2023)
From 0:00 to 0:08 in the 52-second clip, Biden said:
Let's get it done this year. Benefits without costing taxpayers an additional penny. It's within our power to do it. Let's do it now.
The clip then cuts to footage claiming that "any American can get up to $6,400 health subsidy if they qualify after this video ..."
The footage of Biden at the beginning of the clip shared on Facebook is genuine. Lead Stories traced the remarks to an April 28, 2021, statement (archived here) by the president in a speech to a joint session of Congress in which he discussed the benefits of the Affordable Care Act:
And the money we save, which is billions of dollars, can go to strengthen the Affordable Care Act and expand Medicare coverage benefits without costing taxpayers an additional penny. It's within our power to do it; let's do it now. (Applause.) We've talked about it long enough. Democrats and Republicans, let's get it done this year. This is all about a simple premise: Healthcare should be a right, not a privilege in America. (Applause.)
The video shared on social media, however, edited the above footage, splicing out some information and mixing other remarks.
After the genuine Biden video, the clip then cuts to generic footage and audio that, despite the implication otherwise, has no traceable connection to President Biden.
The video on Facebook also included a link that led to the website savvysmartamerican.com (archived here). When clicked, the link redirected to a generic webpage that claimed "Enrollment closes on Friday, 10/27/2023 at midnight." The website, featured below, is not affiliated with the U.S. government nor does it represent genuine offerings.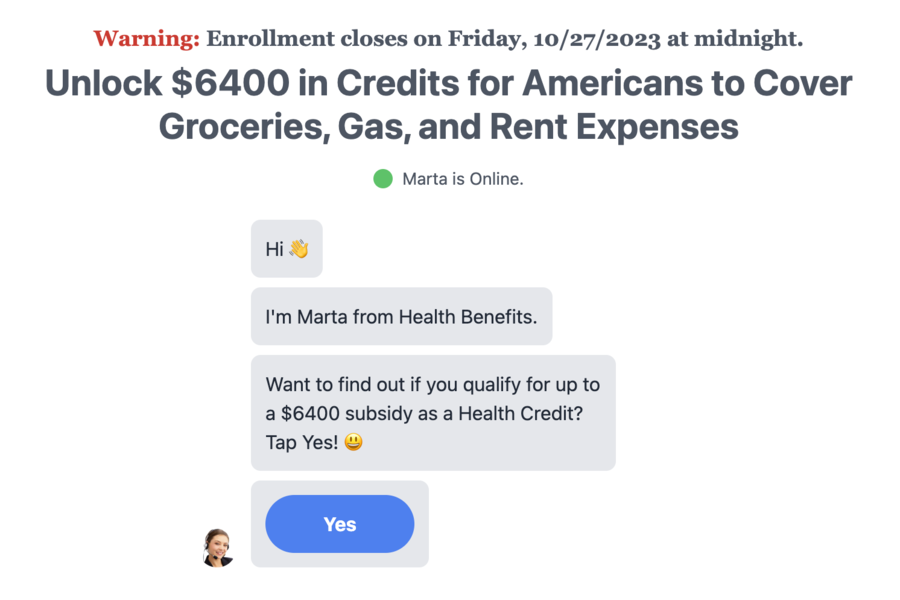 (Source: savvysmartamerican.com screenshot taken Fri Oct 17 20:48:01 UTC 2023)
Lead Stories first reported on the benefit scam in August 2023. At the time, our newsroom searched through the federal government's benefits website and determined that there was no credible evidence to support such claims. We wrote that:
The companies behind such web pages typically are trying to advertise some federal assistance guidance or insurance service to users. The federal government has warned Americans that it 'does not offer "free money"' and that such claims are often scams.
As of October 27, 2023, the above information was still accurate.
Lead Stories also dug through the official White House social media accounts (X, Instagram, YouTube and Facebook). As of October 27, 2023, the president had not shared such endorsements or videos on their platforms.
Given the timing of the post, it is apparent that online scammers may be taking advantage of the November 1 - December 15, 2023, open-enrollment period for health insurance provided through the Affordable Care Act.
Lead Stories has explored similar scams in the fact checks found here.