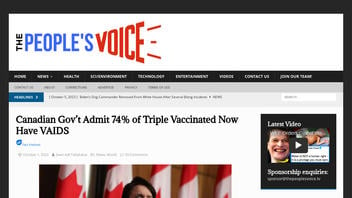 Did the Canadian government "admit" that 74 percent of people who are triple-vaccinated for COVID-19 now have "vaccine acquired immune deficiency syndrome"? No, that's not true: The Public Health Agency of Canada told Lead Stories an article making that claim is "false." Also, there is no credible information or reports suggesting that those who have been vaccinated for COVID-19 three times become immunocompromised.
The claim appeared in an article (archived here) published by The People's Voice on October 1, 2023, titled "Canadian Gov't Admit 74% of Triple Vaccinated Now Have VAIDS." The article opened:
Official data released by the Canadian government reveals that at least 74% of the vaccinated population across Canada now have full-blown Vaccine Acquired Immune Deficiency Syndrome (VAIDS).
This is what the post looked like on The People's Voice website at the time of writing: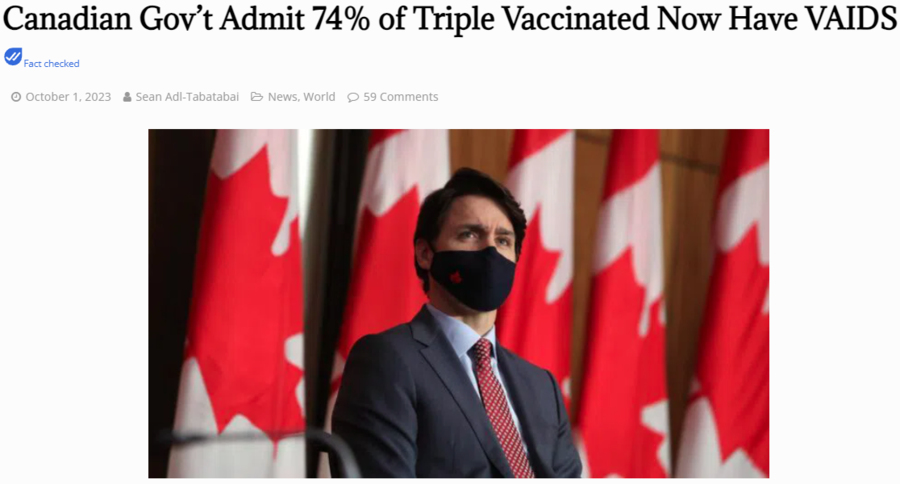 (Source: The People's Voice screenshot taken on Thu Oct 5 16:15:06 2023 UTC)
Public Health Agency of Canada
The Public Health Agency of Canada (PHAC) provided a response to the assertions in the article in an October 5, 2023, email to Lead Stories, saying "These claims are false." PHAC continued:
With billions of COVID-19 vaccine doses administered to individuals across the world, real-world data strongly suggest that COVID-19-vaccinated individuals are not immunocompromised following vaccination. The protective efficacy of these vaccines against severe COVID-19 is unequivocally known to be mediated by the activity of the immune system of the vaccinated individual. ...

To date, no reports of AIDS following COVID-19 vaccines have been submitted to PHAC.

PHAC, Health Canada, and provincial and territorial health authorities continually monitor the use of all COVID-19 vaccines closely and examine and assess any new safety concerns. Vaccination remains one of the most effective ways to protect our families, communities, and ourselves against COVID-19. Evidence shows that the vaccines used in Canada are very effective at preventing severe illness, hospitalization, and death from COVID-19.
No such evidence
Dr. William Schaffner, a professor of medicine in the division of infectious diseases at Vanderbilt University Medical Center, told Lead Stories that there's no evidence that "COVID vaccines generally suppress or weaken the immune system." His comments came in a July 25, 2022, email to Lead Stories for an earlier story titled "Fact Check: COVID Vaccines Do NOT Suppress Immune System." He continued:
Of course, the vaccines specifically strengthen the immune system so that it can prevent serious COVID infections. Beyond that, if the COVID vaccines generally suppressed the immune system in a substantial way, that would have become evident by now. Those who had received the vaccines by now would have evidenced an increase in a myriad of other infections. Millions of doses of COVID vaccines have been administered around the world and this has not occurred anywhere.
Misinformation
In the closing section of its email, PHAC told Lead Stories that "Public health officials across Canada have been working tirelessly to provide Canadians with the information they need to protect themselves and their families from COVID-19." It continued (emphasis theirs):
The Government of Canada is aware that online disinformation is an issue of concern for Canadians. During any public health crisis, access to reliable, accurate and timely information is essential to take the right action including proven effective measures to protect our health.
The People's Voice
The People's Voice has a lengthy record of publishing false stories. It describes itself as a resource "comprised of various web pages operated by Fact Checked Limited," but it has nothing to do with fact checking.
As of this writing, its website contains a liability disclaimer, saying:
FACT CHECKED LIMITED AND/OR ITS SUPPLIERS MAKE NO REPRESENTATIONS ABOUT THE SUITABILITY, RELIABILITY, AVAILABILITY, TIMELINESS, AND ACCURACY OF THE INFORMATION, SOFTWARE, PRODUCTS, SERVICES AND RELATED GRAPHICS CONTAINED ON THE SITE FOR ANY PURPOSE. TO THE MAXIMUM EXTENT PERMITTED BY APPLICABLE LAW, ALL SUCH INFORMATION, SOFTWARE, PRODUCTS, SERVICES AND RELATED GRAPHICS ARE PROVIDED 'AS IS' WITHOUT WARRANTY OR CONDITION OF ANY KIND.
Read more
Additional Lead Stories fact checks of claims related to vaccines can be found here.
Other Lead Stories fact checks about VAIDS can be found here.