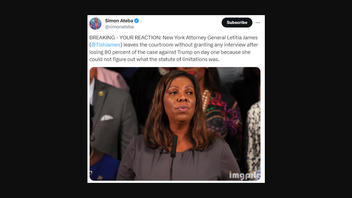 Did New York state Attorney General Letitia James lose 80 percent of the civil fraud case against Donald Trump, as a social media post claimed? No, that's not true: The judge in the case did not dismiss any portion of the charges filed by James in New York against the former president, a legal expert told Lead Stories. Trump's legal team raised an objection based on their interpretation of a prior appellate ruling, but the judge said he was not ruling out any claims based on a statute of limitation and nothing was dismissed.
The claim appeared in a post on X, formerly known as Twitter, on October 2, 2023 (archived here). It opened:
BREAKING - YOUR REACTION: New York Attorney General Letitia James (@TishJames) leaves the courtroom without granting any interview after losing 80 percent of the case against Trump on day one because she could not figure out what the statute of limitations was.
This is what the post looked like on X at the time of writing: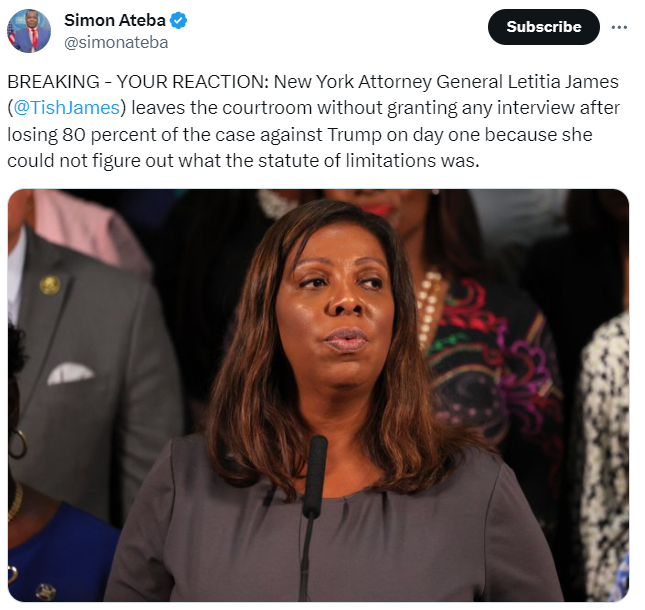 (Source: X screenshot taken on Thu Oct 5 21:03:57 2023 UTC)
The following day in court, October 3, 2023, Engoron reiterated that all claims were allowed under the statute of limitations, which he had ruled on the previous week, according to The Associated Press (archived here). He said his ruling not dismissing the charges stood, according to PBS (archived here):
Engoron said Tuesday that 'statutes of limitations bar claims, not evidence' and that at the trial's early stage, he's inclined to give both sides considerably leeway to connect older evidence to claims in the lawsuit.
'I want to emphasize: This trial is not an opportunity to relitigate what I have already decided,' Engoron said.
Columbia Law School Professor John C. Coffee Jr. told Lead Stories via email on October 5, 2023, that 80 percent of the case was not over:
The impact of the statute of limitations on this case is a real issue and may be addressed on appeal by the Appellate Division, but it is unlikely to be addressed further by the trial judge (as he has already ruled). Nor does the statute of limitations affect the injunctive relief that the judge may yet order or his decision (in his summary judgment decision) to appoint receivers to liquidate the assets of Trump's New York business entities. Trump can argue his position, which others appear to be misinterpreting.
Trump stated on October 2, 2023, that Judge Arthur Engoron "conceded" that "about 80 percent" of his case was over. Video of him outside the courtroom published on Forbes Breaking News YouTube channel show him making the claim beginning at 0:34:
Well I think that was very good. That last five minutes was outstanding because the judge essentially conceded that these statute of limitations that we want at the court of appeals is in effect. Therefore, about 80 percent of the case is over.
The Washington Post reported on October 2, 2023, that no portion of the attorney general's case was dismissed (archived here):
Trump and his legal team have said repeatedly that they 'won 80 percent of the trial,' because an appellate court intended to dismiss claims based on statutes of limitations. Engoron has not dismissed any portion of the attorney general's case, but the defense is suing him over what it says is an improper refusal to follow the appellate court order. Engoron acknowledged the blanket objection, and Bender proceeded to testify.