STORY UPDATED: check for updates below.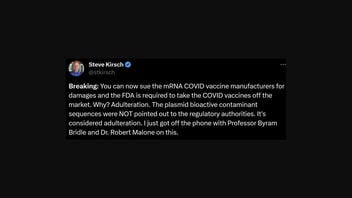 Is the Food and Drug Administration (FDA) "required to take the COVID vaccines off the market" as of October 21, 2023? No, that's not true: COVID-19 vaccines are not being taken off the market by the FDA as of this writing. All vaccines that were available in October 2023 had a reassuring safety profile, and health experts point to statistics showing that vaccination reduces hospitalization and death associated with infection. Furthermore, there is no evidence or peer-reviewed scientific literature to support claims that COVID vaccines are contaminated with simian virus 40 (SV40), a common monkey virus also referred to as "green monkey DNA."
The newest claim regarding the FDA and COVID vaccines originated in a thread shared on X shared by Steve Kirsch, whose false claims Lead Stories has debunked before, on October 21, 2023, (archived here) that read:
Breaking: You can now sue the mRNA COVID vaccine manufacturers for damages and the FDA is required to take the COVID vaccines off the market. Why? Adulteration. The plasmid bioactive contaminant sequences were NOT pointed out to the regulatory authorities. It's considered adulteration. I just got off the phone with Professor Byram Bridle and Dr. Robert Malone on this.
Below is how the post appeared at the time of this publication:

(Source: X screenshot taken Sat Oct 21 13:02:00 UTC 2023)
There was no indication that COVID vaccines were being taken off the market by the FDA or any other U.S. regulatory agency as of this publication on October 25, 2023. Kirsch did not cite any credible report or source to corroborate his claim.
In an email to Lead Stories received October 30, 2023, the FDA confirmed that this claim had no basis:
The claim that the FDA is required to take any of the authorized or approved mRNA COVID-19 vaccines off the market is false. With over a billion doses of the mRNA vaccines administered, no safety concerns related to the sequence of, or amount of, residual DNA have been identified. With regard to the FDA-approved mRNA vaccines, available scientific evidence supports the conclusion that they are safe and effective.
Medical experts agree that the vaccines are safe and effective for preventing serious illness and death associated with infection and recently published immunization recommendations reflect this sentiment. Furthermore, there is no evidence that COVID vaccines have been contaminated with SV40, and any potential trace amounts have not been found to be harmful to human health.
No regulatory action to remove COVID mRNA vaccines from the market
As of October 25, 2023, COVID-19 vaccines were not being taken off the market (archive) by the FDA or any other regulatory agency in the U.S., according to a fact sheet (archive) published by the agency. The following vaccines were available under emergency use authorization as of October 4, 2023 (archive):
All of the vaccines listed above are considered safe and effective by both the FDA and the Centers for Disease Control and Prevention (CDC)
COVID vaccines continue to be recommended by health authorities
For the fall and winter months of 2023 and 2024 when COVID is most likely to peak, the CDC recommended Pfizer-BioNTech, Moderna, or Novavax vaccines to protect against serious illness from COVID-19, none of which are preferred over the other. Everyone aged 5 and older should receive one dose of an updated COVID vaccine current for the time period above, the agency added.
"COVID-19 vaccines available in the United States are effective at protecting people from getting seriously ill, being hospitalized, and dying. As with other vaccine-preventable diseases, you are best protected from COVID-19 when you stay up to date with the recommended vaccinations," wrote the CDC in an October 4, 2023, update to its vaccination recommendations.
According to a report published on September 12, 2023, the CDC also wrote that COVID vaccines "are safe and effective," adding that:
COVID-19 vaccines were evaluated in tens of thousands of participants in clinical trials. The vaccines met the Food and Drug Administration's (FDA's) rigorous scientific standards for safety, effectiveness, and manufacturing quality needed to support emergency use authorization (EUA)...

The Pfizer-BioNTech, Moderna, and Johnson & Johnson/Janssen and Novavax COVID-19 vaccines will continue to undergo the most intensive safety monitoring in US history. This monitoring includes using both established and new safety monitoring systems to make sure that COVID-19 vaccines are safe.
mRNA vaccines do not contain SV40 amounts harmful to human health
In the post on X, Kirsch implied that there had been some sort of regulatory decision to require that the FDA take COVID vaccines "off the market" due to "adulteration," which he claims in the subsequent thread resulted from the "SV40 promotor" having been "found in all the vials."
As Lead Stories reported in June 2023, SV40 refers to a common monkey virus that was unknowingly present in monkey kidney cells used in the late 1950s and early 1960s to make poliovirus vaccines. Hundreds of millions of people were inadvertently exposed to the virus as a result of being immunized by contaminated vaccines. However, SV40 has not been present in vaccines since 1963.
Michael Imperiale, a molecular biologist at the University of Michigan Medical School, told Lead Stories at the time that any potential traces of SV40 contained in COVID mRNA vaccines would be too minimal to cause harm to human health. (COVID vaccines use DNA sequencing of SARS-CoV-2 to synthetically manufacture and insert a spike protein, which allows the virus to attach to the host cell, into a small piece of DNA called a plasmid. Any trace amounts of the virus would be negligible to human health.)
Ingredients for all of the COVID vaccines available on the market as of October 24, 2023, can be viewed here.
Lead Stories has debunked a number of false claims published by Kirsch that can be found here.
2023-10-30T18:14:49Z

2023-10-30T18:14:49Z

Adds October 30, 2023, comment from FDA saying claim is false.