STORY UPDATED: check for updates below.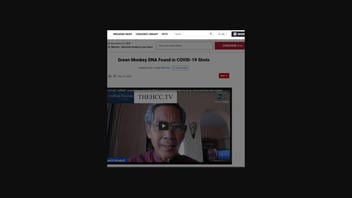 Did a legitimate, peer-reviewed study successfully demonstrate that COVID-19 mRNA vaccines produced by Pfizer and Moderna were shown to contain simian virus 40 (SV40), a DNA virus that has been linked to certain cancers? No, that's not true: The research in question was not published in a peer-reviewed journal and as such, has not been vetted for accuracy by scientific experts. Additionally, a microbiologist told Lead Stories that even if SV40 is found in COVID mRNA vaccines, the amounts would be negligible in their ability to cause cancer or harm to human health.
The claim originated in a post published on Joseph Mercola's website on May 31, 2023, titled "Green Monkey DNA Found in COVID-19 Shots" (archived here). The post opened:
STORY AT-A-GLANCE

> Microbiologist Kevin McKernan -- a former researcher and team leader for the MIT Human Genome project -- has discovered massive DNA contamination in the mRNA COVID shots, including simian virus 40 (SV40) promoters

> SV40 has been linked to cancer in humans, including mesotheliomas, lymphomas and cancers of the brain and bone. In 2002, the Lancet published evidence linking polio vaccines contaminated with SV40 to Non-Hodgkin's lymphoma. According to the authors, the vaccine may be responsible for up to 50% of the 55,000 Non-Hodgkin's lymphoma cases diagnosed each year

> The level of contamination varies depending on the platform used to measure it, but no matter which method is used, the level of DNA contamination is significantly higher than the regulatory limits in both Europe and the U.S. The highest level of DNA contamination found was 30%

> The finding of DNA means the mRNA COVID shots may have the ability to alter the human genome

> Even if genetic modification does not occur, the fact that you're getting foreign DNA into your cells poses a risk in and of itself. Partial expression could occur, or it might interfere with other transcription translations that are already in the cell. Cytoplasmic transfection can also allow for genetic manipulation, as the nucleus disassembles and exchanges cellular components with the cytosol during cell division
Below is how the post appeared at the time of this publication: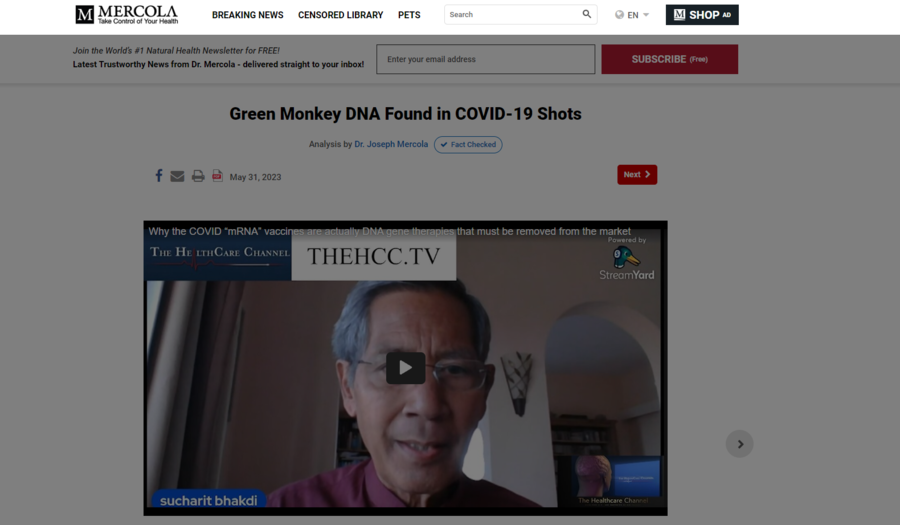 (Source: Mercola screenshot taken Thurs June 1 03:12:00 UTC 2023)
Mercola's May 2023 post, above, was paywalled on his website but shared verbatim by other publications including Rose Rambles, The Burning Platform, and the Discern Report. A PDF version is available here.
However, the research in question was not published in a peer-reviewed journal and as such, has not been vetted for legitimacy and accuracy by scientific experts.
Michael Imperiale, a molecular biologist at the University of Michigan Medical School, told Lead Stories that any potential traces of SV40 contained in COVID mRNA vaccines would be too minimal to cause harm to human health.
The study has not been peer-reviewed
Included in the Mercola post is a video in which Kevin McKernan, formerly of the Whitehead Institute/MIT human genome project, described the findings of a preprint study in OSF Preprints he authored that has not been reviewed or vetted by scientific peers for accuracy, nor has it been published in a legitimate scientific journal.
Titled "​​Sequencing of bivalent Moderna and Pfizer mRNA vaccines reveals nanogram to microgram quantities of expression vector dsDNA per dose," McKernan and the study authors reported that they tested "four expired vials of the Moderna and Pfizer bivalent mRNA vaccines," two from each vendor, using qPCR kits produced by testing facility Medicinal Genomics, of which McKernan is listed as a founder. A conflict of interest statement included in the study reads:
The authors of this work are employed by Medicinal Genomics which manufacture some of the qPCR kits used in this study.
The authors wrote that "multiple assays" showed that Pfizer and Moderna vaccines were shown to contain DNA contamination SV40. This known oncogenic DNA virus induces brain and bone cancers that exceeded limits set by the European Medicines Agency and the U.S. Food and Drug Administration.
A history of SV40 and previous vaccine contamination
SV40 is a common monkey virus that was unknowingly present in monkey kidney cells used in the late 1950s and early 1960s to make poliovirus vaccines, according to a 2013 publication in the journal Vaccines. Hundreds of millions of people were inadvertently exposed to the virus as a result of being immunized by contaminated vaccines, reported the Encyclopedia of Virology. However, the Children's Hospital of Philadelphia notes that SV40 has not been present in vaccines since 1963.
After SV40 was discovered, vaccine manufacturers switched vaccine in-vitro cultivation to cells taken from African green monkeys, a primate that is commonly used in biomedical research and so named for their green-tinted fur.
SV40 is not commonly used in the production of COVID vaccines
Unlike the attenuated polio vaccines which are made of living viruses, COVID vaccines use DNA sequencing of SARS-CoV-2 to synthetically manufacture and insert a spike protein, which allows the virus to attach to the host cell, into a small piece of DNA called a plasmid. As the National Human Genome Research Institute describes, this is done in in-vitro (laboratory-based) settings that mimic human biological processes:
First, they [scientists] separate the two strands of plasmid DNA. Then, RNA polymerase, the molecule that transcribes RNA from DNA, uses the spike protein gene to create a single mRNA molecule. This is nearly identical to the way genes in our bodies are transcribed. Finally, other molecules break down the rest of the plasmid to ensure that only the mRNA is packaged as a vaccine.
mRNA vaccines inject cells with instructions for generating a protein found in the COVID-19 virus. That causes an immune response in a person who has never been exposed to the actual virus. If that person is exposed later, their body will recognize the virus and respond accordingly.
mRNA vaccines do not contain SV40 amounts that would elicit an oncological response
Imperiale told Lead Stories in an email received on June 2, 2023, that any potential traces of SV40 are not able to cause the virus to cause cancer in humans.
"It looks like the plasmid vector that Pfizer uses to produce the mRNA for the vaccine (by transcribing the plasmid DNA into RNA) contains sequences that were originally derived from SV40. However, they are only very small fragments of the SV40 genome and, most importantly, they do not contain the SV40 sequences that allow that virus to be oncogenic. In fact, they do not encode any proteins at all," Imperiale told Lead Stories.
"Therefore, even if there were contaminating plasmid DNA in a vaccine lot, it would be unable to produce anything that can cause cancer."
Neither the Pfizer nor Moderna COVID mRNA vaccine ingredient lists published by the FDA contain SV40.
"Despite various claims on social media, Green Monkey DNA and Starfish and snake venoms are not a component of the COVID-19 vaccine. The COVID-19 vaccine does not contain any live material and is completely synthetic," wrote Pfizer in an email received by Lead Stories on June 1, 2023.
In July 2021, The New York Times called Mercola, an osteopathic physician, "the most influential spreader of coronavirus misinformation online."
Lead Stories has debunked multiple instances of COVID vaccine misinformation online, including that a list of 24 "government published" studies does not prove vaccines cause autism, that a study did not "show" people fully vaccinated for COVID lose 25 years of life expectancy, and that there is no indication that vaccinated people emit Bluetooth signals.
2023-06-06T16:20:54Z

2023-06-06T16:20:54Z

Updated headline reinforces non-presence of Green Monkey DNA in mRNA COVID vaccines.