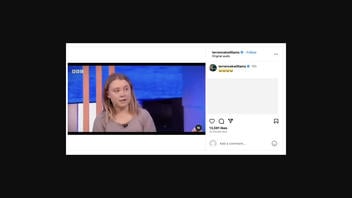 Did climate activist Greta Thunberg advocate for "biodegradable missiles" in an interview with the BBC? No, that's not true: A clip that circulated on social media in October 2023 featured altered audio from an BBC interview in 2022 in which Thunberg discussed climate change. Nowhere in the original interview did Thunberg mention "biodegradable missiles" or other claims that were included in the edited video.
The claim originated in a video on Instagram on October 24, 2023, (archived here), with a caption that was only four laughing emojis:
😂😂😂😂
Below is how the post appeared at the time of writing: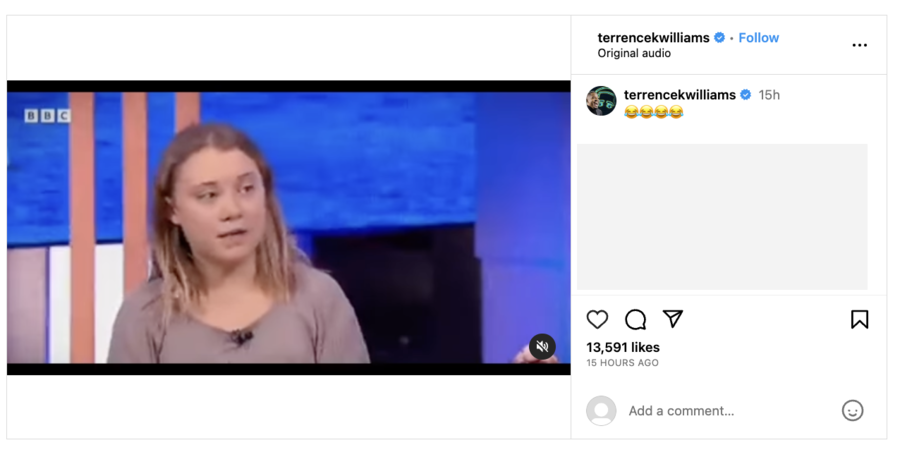 (Source: Instagram screenshot taken Wed Oct 25 09:40:06 UTC 2023)
The account that posted the above video belonged to the self-described actor and comedian, Terrence Williams, who has other comedic and satirical content on his Instagram profile.
Lead Stories traced the video to an episode of BBC's "The One Show" that was published to YouTube on November 1, 2022, (archived here) titled, "Greta Thunberg on how to tackle climate anxiety." A description of the video read:
Lauren Laverne and Jermaine Jenas are joined by Greta Thunberg to chat about climate anxiety, her new book, The Climate Book, and crocheted frog hats.
Authentic audio from this interview was doctored to make it appear as though Thunberg said:
War is always bad, specifically for the planet. If we want to continue fighting battles like environmentally conscious humans, we must make the change to sustainable tanks and weaponry. There are so many new concepts for battery-powered fighter jets that can carry many more missiles -- biodegradable missiles, of course. Something literally everybody can do to stop this nonsense is, for example, block the roads to gardens and farms so the plants don't get overrun by these heavy, heavy tanks. Hand grenades? Very important. If you use hand grenades, please use vegan grenades. No animals should have to give their life for all this mayhem and chaos. They have a special sticker on them. You really can't miss them in the grenade market or wherever you buy them. Yeah, I cover all of this and more in my newest book, 'Vegan War.'
Lead Stories watched the almost five-minute clip and determined that at no point did Thunberg make the above statements. Rather, the then-19-year-old discussed her role as a climate activist and the future of climate change.
Lead Stories has debunked other false claims involving Thunberg here.