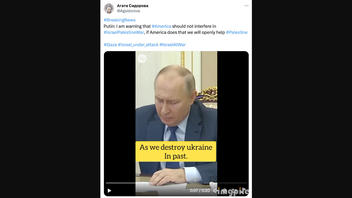 Does a video show Russian President Vladimir Putin "warning that America should not interfere in the Israel Palestine war" amid the Hamas attack on Israel on October 7, 2023? No, that's not true: The video of Putin is from December 2022 and he never mentioned Israel or Palestine in his comments, as the correct translation shows. He was talking about Ukraine and Russia.
The claim appeared in a video published on X, formerly known as Twitter, on October 9, 2023 (archived here). It opened:
#BreakingNews Putin: I am warning that #America should not interfere in #IsraelPalestineWar, if America does that we will openly help #Palestine #Gaza #Israel_under_attack #IsraelAtWar
This is what the post looked like on X at the time of writing: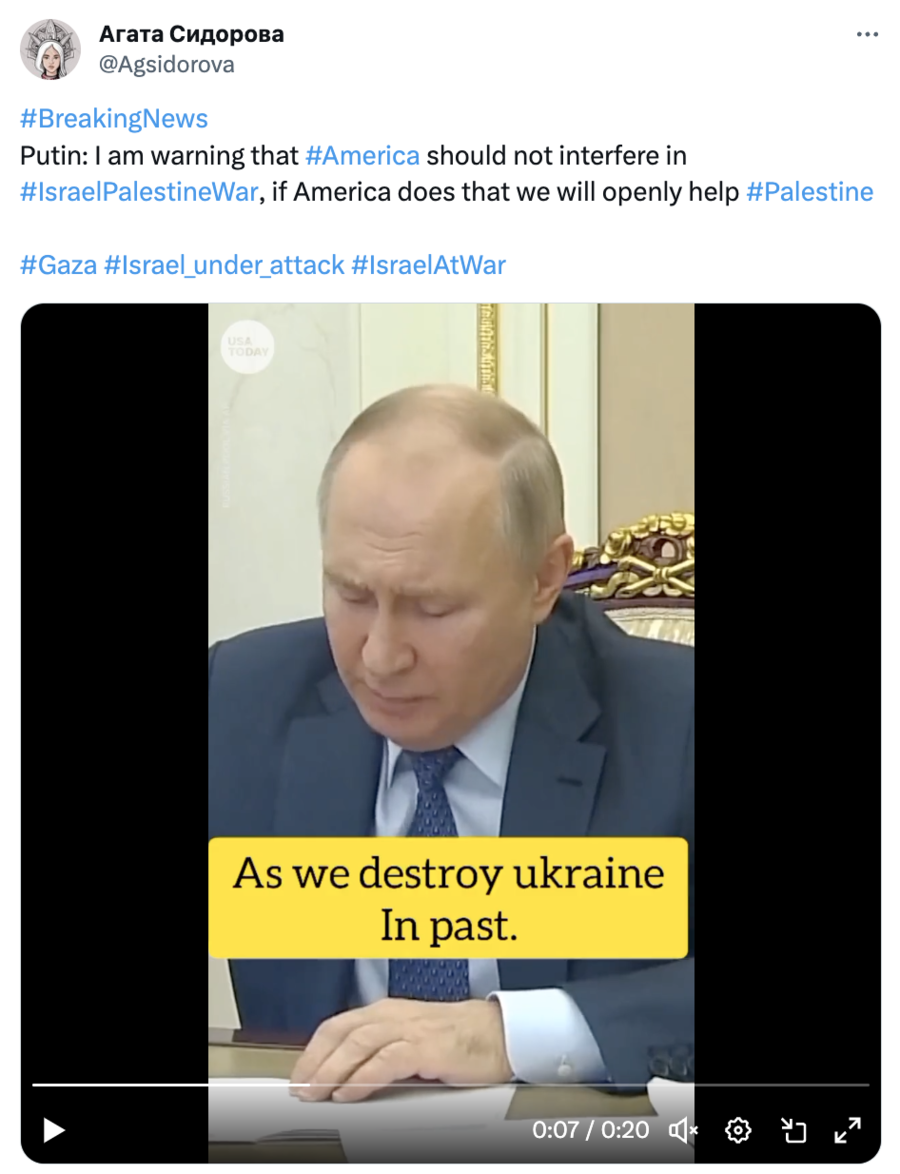 (Source: X screenshot taken on Tue Oct 10 19:47:25 2023 UTC)
The 20-second video posted on Facebook is of Putin with false captions, which are:
As we destroy ukraine In past. I am warning America. Russia will help palestine And america can do nothing
These captions are not the correct translation of what Putin said on camera. USA TODAY posted a video on their verified YouTube channel (archived here) on December 8, 2022, with the caption, "Russian president Vladimir Putin said that Russia's nuclear arsenal is a 'means of protection' and that the "threat [of nuclear war] is growing" during a meeting with his Human Rights Council." Speaking Russian, with translation to English in the captions shown on screen, he never mentions Israel or Palestine and is only speaking of his own country amid the invasion of Ukraine:
Regarding threats of nuclear war. Svetlana Gennedievna, you are right this threat is growing. There is nothing to hide here. Regarding the fact that under no circumstances will Russia strike first, if it does not strike first under any circumstances, then it will not strike second either, because the possibilities of a nuclear strike on our territory are very limited. However, our strategy is to consider nuclear weapons, and they are weapons of mass destruction, as a means of protection. It is all set up around the so-called retaliatory oncoming strike.
Other Lead Stories articles on claims pertaining to the 2023 Hamas-Israel conflict are here and fact checks mentioning Putin can be found here; Lead Stories fact checks about the war in Ukraine are here.