STORY UPDATED: check for updates below.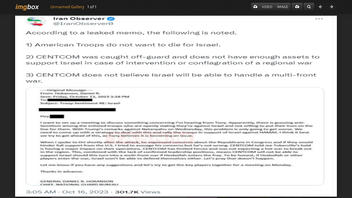 Are written assertions that "American Troops do not want to die for Israel," and that the U.S. military in the region "does not have enough assets to support Israel" taken from an authentic leaked U.S. military officer's internal memo? No, that's not true: The purported email being cited and quoted on social media is fake. A press release from the National Guard stated that the memo is false and that Gen. Daniel Hokanson, whose name is on the fake memo, did not write or send it.
The claim appeared in a post (archived here) published on X (formerly Twitter) by Iran Observer on October 16, 2023. The post's caption said:
According to a leaked memo, the following is noted.

1) American Troops do not want to die for Israel.

2) CENTCOM was caught off-guard and does not have enough assets to support Israel in case of intervention or conflagration of a regional war

3) CENTCOM does not believe Israel will be able to handle a multi-front war.
This is what the post looked like on X at the time of writing: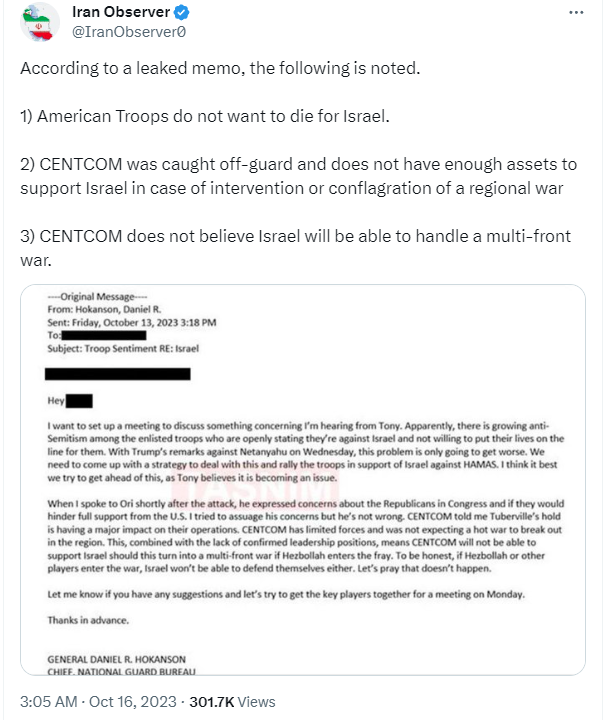 (Source: X screenshot taken on Tue Oct 17 14:52:11 2023 UTC)
The 'leaked memo'
The post on X purports to share an October 13, 2023, email correspondence between Gen. Daniel Hokanson, chief of the National Guard Bureau and a member of the Joint Chiefs of Staff (archived here), and an unidentified person whose name has been redacted. The subject line reads: "Troop Sentiment RE: Israel." This is what the body of the alleged message says:
Hey [redacted]

I want to set up a meeting to discuss something concerning I'm hearing from Tony. Apparently, there is growing anti-Semitism among the enlisted troops who are openly stating they're against Israel and not willing to put their lives on the line for them. With Trump's remarks against Netanyahu on Wednesday, this problem is only going to get worse. We need to come up with a strategy to deal with this and rally the troops in support of Israel against HAMAS. I think it best we try to get ahead of this, as Tony believes it is becoming an issue.

When I spoke to Ori shortly after the attack, he expressed concerns about the Republicans in Congress and if they would hinder full support from the U.S. I tried to assuage his concerns but he's not wrong. CENTCOM told me Tuberville's hold is having a major impact on their operations. CENTCOM has limited forces and was not expecting a hot war to break out in the region. This, combined with the lack of confirmed leadership positions, means CENTCOM will not be able to support Israel should this turn into a multi-front war if Hezbollah enters the fray. To be honest, if Hezbollah or other players enter the war, Israel won't be able to defend themselves either. Let's pray that doesn't happen.

Let me know if you have any suggestions and let's try to get the key players together for a meeting on Monday.

Thanks in advance.

GENERAL DANIEL R. HOKANSON

CHIEF NATIONAL GUARD BUREAU
U.S. National Guard
The National Guard dismissed the claim in the post on X in a press release (archived here) on October 16, 2023. The statement said:
An email circulating with Gen. Daniel Hokanson's name that supposedly calls into question US commitment to Israel is categorically false. He did not write it. He did not send it.
This is what the press release looked like: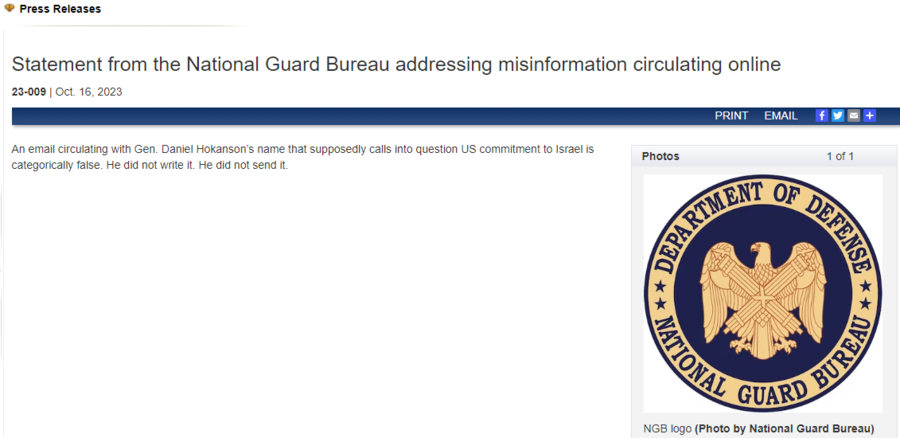 (Source: National Guard screenshot taken on Tue Oct 17 15:25:38 2023 UTC)
Military experts
Additionally, Colin Smith, a RAND Corp. senior international/defense researcher and former deputy director at the National Defense University, took a look at the alleged "leaked memo" for Lead Stories and said, "I would rate this as unlikely to be real." In his October 17, 2023, email response, he continued:
A couple points that would potentially indicate it is not real:

The formatting of General Hokanson's name does not look correct unless he sent it from his personal email. Most government emails from military personnel have a rank within them, although technically one can change the settings.
If from a personal account, it would be odd to have what appears to be part of a signature block at the end.
This seems a very informal email, from one senior leader to another, who know each other. It starts 'Hey....' Tony, most likely references the General's Senior Enlisted Advisor Chief Master Sergeant Tony L Whitehead. Unless the recipient knows SMSgt Whitehead well, it's not always common to refer to an enlisted, even a very senior enlisted, by their first name. (This can be service culture dependent. I am not familiar enough with the National Guard to say for certain this is not common.) The author also references Ori, most likely in reference to Major General Ori Gordin, head of Israel's Home Front Command. There is a relationship between New York National Guard and Israel, so the two Senior Leaders would know each other. If emailing a friend or close subordinate though, General Hokanson would have signed his name or initials, or whatever is his usual for him. From Senior to Senior I would expect "Dan" of DRH, or whatever he is known best as amongst fellow senior leaders or his inner circle.
The U.S. military has publicly announced two U.S. Carrier battle groups to be sent or already in the area in support of Israel. The statement that CENTCOM could not support Israel does not match known U.S. military response in the region.
The Author refers to CENTCOM three times. If this is truly amongst very senior military leaders, why not mention General McKenzie by name? Only reason would be if the person the author is emailing is junior to a 4-Star, but equal or senior to a Major General (Reference to Ori by first name, and his own senior enlisted by first name). Potential recipients would be a Deputy Commander, Chief of Staff, Senior Civilian advisor, but again, there would be a signature (Name or initials) not just the signature block, if emailing someone that close.
RAND's David Ochmanek offered a second opinion on the alleged CENTCOM "leaked memo." The senior international/defense researcher, who was also the deputy assistant secretary of defense for Force Development from 2009 until 2014, said "This looks fake to me." He continued:
I find it hard to believe that the Chief of the Guard Bureau would be weighing in on these issues. And whoever wrote this is actually wrong: If Hezbollah were to enter this conflict, CENTCOM would, in fact 'be able to support Israel' if told to do so, and Israel would 'be able to defend themselves.' Finally, no one in the U.S. armed forces is being asked to 'put their lives on the line' for Israel.
Read more
Additional Lead Stories fact checks of claims related to the 2023 Hamas-Israel conflict can be found here.
2023-10-18T14:20:19Z

2023-10-18T14:20:19Z

Adds analysis from RAND Corp. expert David Ochmanek