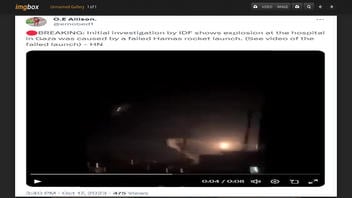 Does a video shared on social media show a "failed Hamas rocket launch" striking a hospital in Gaza on October 17, 2023? No, that's not true: The clip was widely shared more than a year earlier in August 2022. At the time, it was reported to be a failed rocket launch by Islamic Jihad that caused an explosion in Jabaliya in northern Gaza, injuring several children, the Israeli military said.
The claim appeared in a post and video (archived here) published on X (formerly Twitter) by O.E. Allison on October 17, 2023. The post's caption said:
🔴BREAKING: Initial investigation by IDF shows explosion at the hospital in Gaza was caused by a failed Hamas rocket launch. (See video of the failed launch) - HN
This is what the post looked like on X at the time of writing: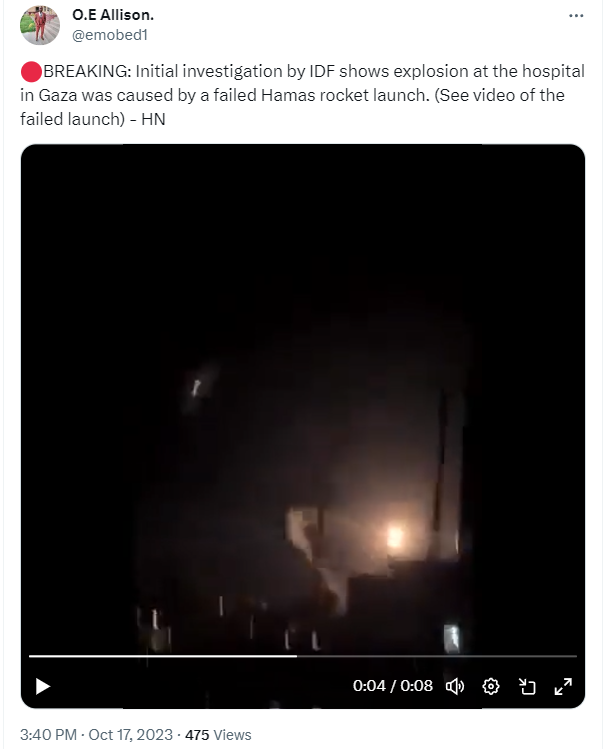 (Source: X screenshot taken on Tue Oct 17 20:20:48 2023 UTC)
The video
Two posts showing the same video from August 2022 can be seen below. The first on TikTok (archived here):
Here's another one on X (archived here):
First, Islamic Jihad launches a failed missile at Israel that hits the Palestinian population in Jabaliya and kills children, and then they release a reports accusing the IDF of killing those same children they killed!
Share the truth! pic.twitter.com/zk4QZBAjx5

-- יוסף חדאד - Yoseph Haddad (@YosephHaddad) August 6, 2022
News reports
News reports from NPR and Al Jazeera at the time reported the blast with fatalities that included children. Palestinians and Israelis exchanged blame for the incident.
Read more
Additional Lead Stories fact checks of claims related to the 2023 Hamas-Israel conflict can be found here.