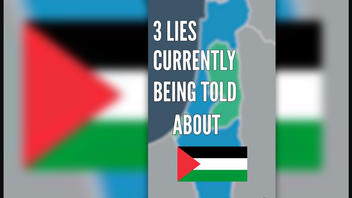 Is there no visual evidence to prove there was a coordinated attack by Hamas militants that killed hundreds of people at the Supernova music festival? No, that's not true: The violent attack at the Supernova Festival is not a conspiracy or lie told by a few propagandists. There were thousands of eye-witnesses who were there at the festival and hundreds of festivalgoers who were killed in the early morning hours on October 7, 2023. There is video and photographic evidence from multiple independent sources that show the violent attack and aftermath. This is not an example of "atrocity propaganda."
The claim appears in a video published on Facebook on October 10, 2023 (another copy is published on TikTok, archived here) with the caption:
Three lies
This is how the post appeared on Facebook at the time of writing: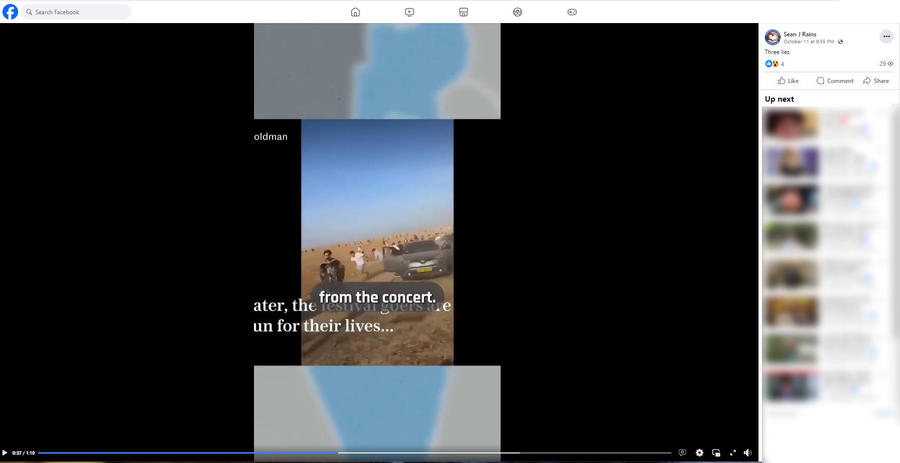 (Source: Facebook screenshot taken on Sat Oct 14 00:11:52 2023 UTC)

Text captioning on the video introduces "3 Lies Currently Being Told About Palestine." The focus of this fact check will be the third claim, which dismisses reports that a mass shooting took place.
The video's narrator says:
Number 3 -- 250 people were killed at a concert.
False -- The only videos we have seen are people running away from the concert. There isn't a single video or photo suggesting that 250 people were killed at a concert or that a mass shooting took place.
There is evidence that many people were fired upon and killed at the Supernova concert. The Facebook video claiming it's all a lie even uses a few seconds from a video that, in its entirety, refutes the claim. The excerpt used shows a happy woman dancing, wearing a white scarf with pink roses. A longer compilation of her footage (2:56 minutes long) shared on X (formerly Twitter) on October 9, 2023, (archived here) opens with a scene before the attack, with dancing under a colorful shade tent. The next scenes show festival security urgently directing the crowd. Gunshots can be heard as people run away. At the 1:51 mark in the video, a group of festivalgoers taking cover together fashion a tourniquet for a wounded woman, who appears to have been shot in the leg. They are using a black leather strap and the scarf with the pink roses.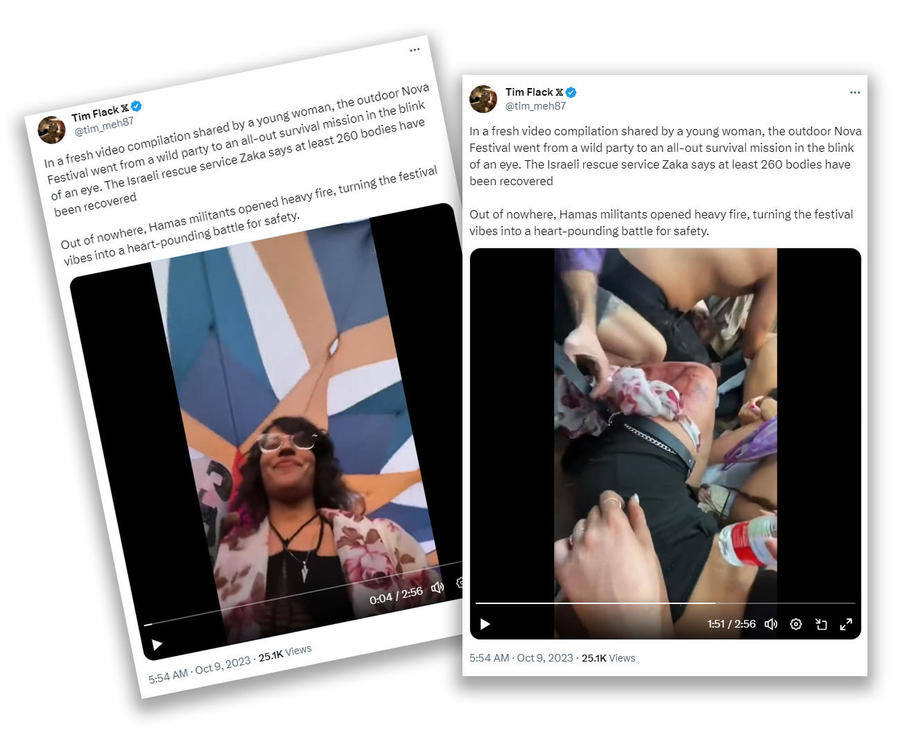 (Source: X screenshots from four seconds and 1:51 minutes taken on Fri Oct 13 20:32:09 2023 UTC)
The original number of 250 fatalities from the Supernova dance festival has been adjusted to 260, according to Zaka, an Israeli search and rescue agency. In an October 8, 2023, article, a New York Post caption under a graphic photo of many dead bodies in a white walled tent reads:
At least 260 people have been confirmed dead at the music festival. Their bloodied bodies have been stacked in tents while they await identification
Dashcam video from many sources show the chaos and confusion as people tried to get away and were trapped in traffic jams on small dirt access roads between plowed farm fields and woods. Shye Klein shared his videos on X and Instagram. A video posted on X shows Klein was able to get out of the festival grounds but on the highway they encountered vehicles haphazardly stopped with the occupants dead in the road. They also were able to drive past armed men. Another video shared on Telegram was filmed by a dashcam of someone who made it to the highway but encountered a gauntlet of gunmen. The video captures the bullets shattering the windshield. The car, seemingly without a driver now, slows and veers left of center, drifting toward a group of gunmen before coming to a stop when it runs into a parked car.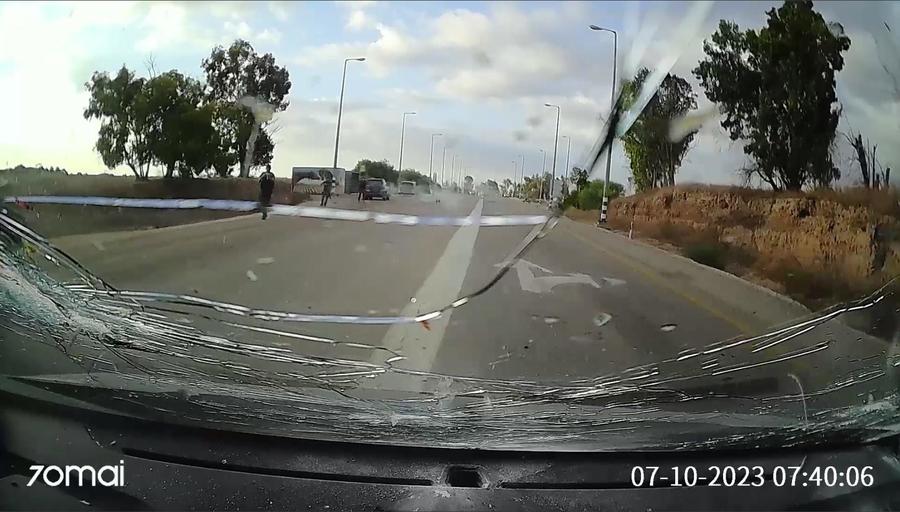 (Source: Telegram screenshot taken on Fri Oct 13 22:57:52 2023 UTC)
A drone video (screenshot below) was filmed and shared on Telegram by South First Responders October 8, 2023. It shows burnt cars and wreckage of an attack on the traffic jam of people trying to flee the festival grounds on October 7, 2023. By the next day there has been some cleanup taking place -- some cars have been moved from the woods or roadside ditches, to the side of the road, and other cars that burned in the middle of the road, have been moved to the side.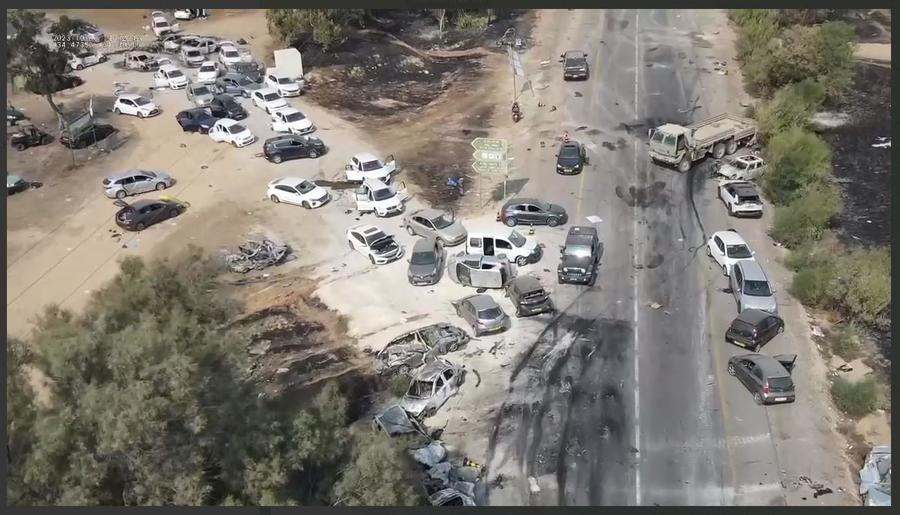 (Source: Telegram screenshot taken on Fri Oct 13 21:13:27 2023 UTC)
A video (reader warning: It is extremely graphic) was filmed by the dashcam of a car in a parking lot just beyond the festival fence where two colorful shade tents can be seen. The video has no sound. This video was also shared on Telegram by South First Responders on October 8, 2023. In this video (screenshot below with a blur added) a person can be seen on the ground behind a white car. He appears to be injured and stays quite still but he moves enough that it is clear he is alive. A gunman with a baseball hat is facing the dashcam and appears to be shouting while he is shooting. Although there is no sound, his shots are evidenced by the dust the bullets kick up and the spent casings being ejected from his gun. He is wearing a green Hamas headband tied around his body armor (visible below). At first it is not clear what he is shooting toward. A man just off screen on the right has been crouching with his hands over his head. He is roughly pulled into view and directed to move somewhere. His clothes are spattered with blood. A second gunman in a red shirt and track pants jogs up to the wounded person on the ground, aims and shoots him from just a few feet away.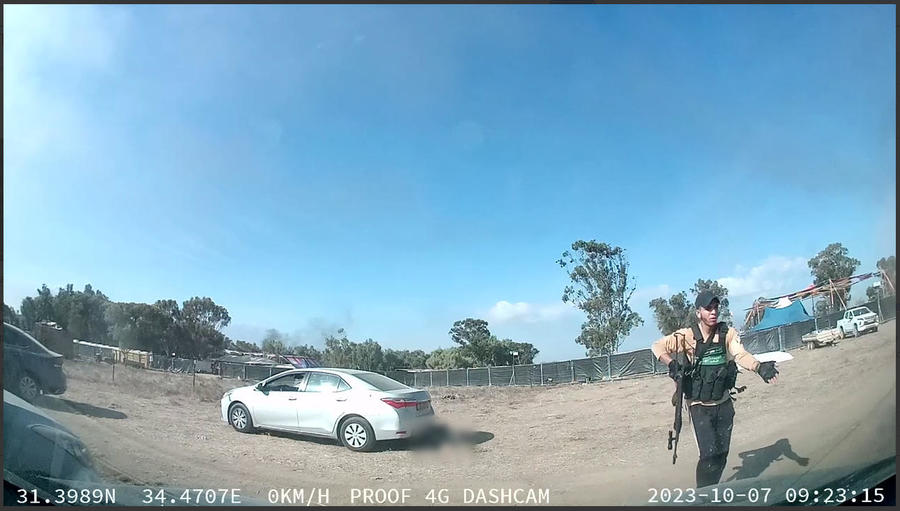 (Source: Telegram screenshot taken on Fri Oct 13 21:13:27 2023 UTC)
In another video filmed by the same dashcam, but timestamped hours later, two militants can be seen rifling through the dead man's pockets and taking some of his things. A woman is taken out of the car and surrounded by about six men. When they aren't near, she seems to wave in the direction of the festival to try to call attention to herself, but then more gunfire stirs up dust and she takes cover behind the car.
Other Lead Stories fact checks that mention the Hamas-Israel conflict are here.