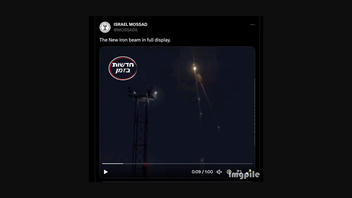 Does a video on social media capture a brand-new Israeli defense system in action during the October 2023 Hamas-Israel conflict? No, that's not true: At the time, Iron Beam was not known for being employed by the Israeli forces. The video on social media presented a cropped version of an Arma-3 game simulation.
The claim appeared in a post (archived here) published by X, formerly known as Twitter, October 15, 2023. It opened:
The New Iron beam in full display.
This is what the post looked like on X at the time of writing: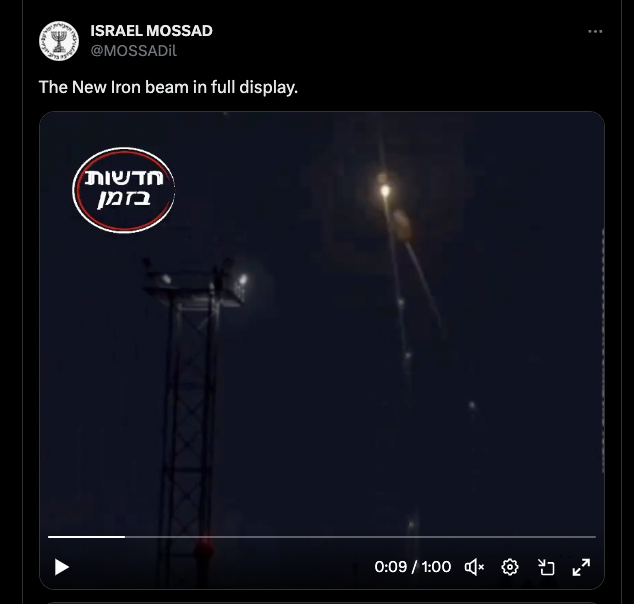 (Source: X screenshot taken on Mon Oct 16 14:06:28 2023 UTC)
The 1-minute nighttime video appeared to present a scene of missile interception in an unidentifiable location next to what looked like a watchtower.
Iron Beam the post on X referred to is a new Israeli defense technology utilizing lasers to shut down missiles and drones. However, as of August 2023, the system was not in use and was expected to become operational (archived here) between four and five years from that date.
The oval logo in the top right corner of the frame said in Hebrew, as translated by Google, "Timely News." A Google search (archived here) for the website of the supposed media organization did not produce relevant matches.
On October 11, 2023, several days before the video started to circulate on X, a longer, uncropped better-quality version of the same clip had been uploaded on YouTube under the title:
The account that posted the claim on X had nothing to do with the official Israeli government sources.
The Institute for Intelligence and Special Operations, known as Mossad, is one of the Israeli spy agencies. Its official account on X, formerly known as Twitter, has a different handle (archived here.) Instead of posting videos of current events, it attempted to expand recruitment efforts. As of this writing, the official Mossad account was last updated in September 2020, three years before the October 2023 Hamas attack on Israel.
The same claim spread on other social platforms, including Instagram (archived here), where it was paired with another video made predominantly from computer-generated graphics, not from authentic footage.
Other Lead Stories fact checks that mention the Hamas-Israel conflict are here.