STORY UPDATED: check for updates below.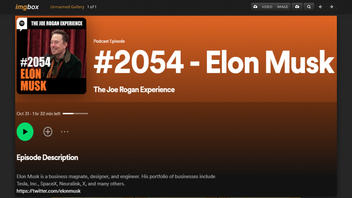 Did 80 percent of COVID-19 patients put on ventilators during the COVID-19 pandemic die? No, that's not true: A Johns Hopkins public health expert told Lead Stories that "80% is high," adding that the actual number is "around 30-40%." The Centers for Disease Control and Prevention agreed that such deaths are far less than 80 percent. Ventilators are used for severe cases of COVID with significant respiratory distress, where the survival rate depends on such factors as the patient's overall health and the severity of the illness.
The claim appeared in "The Joe Rogan Experience" podcast (archived here) published to Spotify on October 31, 2023, titled "#2054 - Elon Musk " The description for the podcast says:
Elon Musk is a business magnate, designer, and engineer. His portfolio of businesses include Tesla, Inc., SpaceX, Neuralink, X, and many others.

https://twitter.com/elonmusk
This is what the post looked like on Spotify at the time of the writing of this fact check: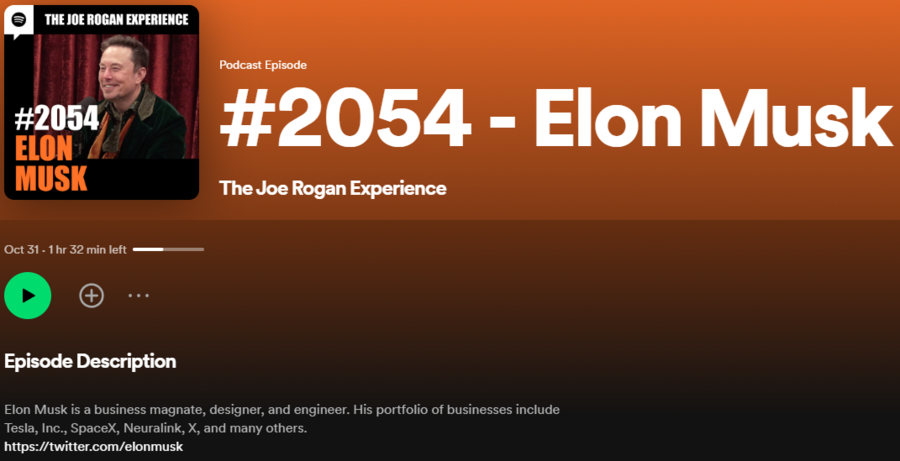 (Source: Spotify screenshot taken on Thu Nov 2 15:09:37 2023 UTC)
The podcast
Just over 68 minutes into the podcast, host Joe Rogan makes the claim: "Well, 80% of the people they put on ventilators died." It prompted this response from Musk, who said:
Yeah. So, in fact, I actually posted about that because I called doctors in Wuhan [China] and said, 'What are the biggest mistakes that you made on the first wave?' This is early on. And they said, 'We put far too many people on intubated ventilators.' So, then I actually posted on Twitter at the time and said, 'Hey, what I'm hearing from Wuhan is that they made a big mistake in putting people on intubated ventilators for an extended period. And that this is actually what is damaging the lungs, not COVID. It's the treatment. The cure is worse than the disease.' And they, people, yelled at me and said I'm not a doctor. I'm like, 'Yeah, but I do make spaceships with life support systems. What do you do?'
The 47-second excerpt (archived here) from the podcast also appeared in a video clip posted to X (formerly Twitter), which is owned by Musk. You can watch it below:
🧵 THREAD: "80% of the people they put on ventilators died," Joe Rogan told billionaire entrepreneur Elon Musk on the Joe Rogan Experience Tuesday.

"Yeah. So, in fact, I actually posted about that," responded Musk, "because I called doctors in Wuhan and said, 'What are the... pic.twitter.com/u7BVRjsi4N

-- The Vigilant Fox 🦊 (@VigilantFox) November 1, 2023
Neither Rogan nor Musk provided scientific or medical evidence to support their claim that 80 percent of the COVID-19 patients put on ventilators died.
COVID-19 expert
Dr. Amesh Adalja, a coronavirus expert at the Johns Hopkins University Center for Health Security, told Lead Stories in a series of emails on November 2, 2023, that the claim of "80% is high," adding "I would rather use ICU mortality as a figure because there are many variables that influence ventilator use -- that's around 30-40%." ICU mortality refers to deaths within hospitals' intensive care units.

Adalja continued:
The mortality rate will vary depending on the era of the pandemic and whether drugs like dexamethasone were used. However, the key point is that a person that needs a ventilator for COVID will die immediately without one so the mortality of ventilated patients will always be higher.
Dexamethasone is a corticosteroid used to help relieve swelling, redness, itching and allergic reactions.
2020 study
A study in the early months of the pandemic also casts doubt on the 80 percent claim. Published on May 22, 2020 (archived here), "ICU and Ventilator Mortality Among Critically Ill Adults With Coronavirus Disease 2019," was an "Observational cohort study of patients admitted from March 6, 2020, to April 17, 2020." These are some of its conclusions:
Among 217 critically ill patients, mortality for those who required mechanical ventilation was 35.7% (59/165), with 4.8% of patients (8/165) still on the ventilator at the time of this report. Overall mortality to date in this critically ill cohort is 30.9% (67/217) and 60.4% (131/217) patients have survived to hospital discharge. ...

Despite multiple reports of mortality rates exceeding 50% among critically ill adults with coronavirus disease 2019, particularly among those requiring mechanical ventilation, our early experience indicates that many patients survive their critical illness.
Shots for COVID did not start to become available until December 2020, well after this study was completed.
Centers for Disease Control and Prevention
Jasmine Reed, a public affairs specialist for the Centers for Disease Control and Prevention (CDC), provided the public health agency's response to the claim. In a November 3, 2023, email, the CDC said the mortality rates vary by age group but are well under 80 percent:
Using data from the COVID-19-Associated Hospitalization Surveillance Network (COVID-NET), we were able to examine in-hospital deaths and mechanical ventilation among adult patients ages 18 years and older with a COVID-19-associated hospitalization.

Overall, using data from patients admitted October 2022-July 2023, approximately 1/3 of hospitalized adults who received mechanical ventilation died in-hospital, but this varied by age, with in-hospital deaths occurring more frequently among older patients.

In-hospital deaths occurred among approximately 10% of adults ages 50 years or younger who received mechanical ventilation and up to 50% of adults 75 years or older who received mechanical ventilation.
Read more
Additional Lead Stories fact checks of claims about COVID-19 and ventilators can be found here.
2023-11-03T22:08:57Z

2023-11-03T22:08:57Z

Adds response and context from the Centers for Disease Control and Prevention.