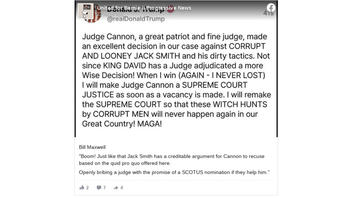 Did former President Donald Trump write on November 2, 2023, that he would nominate Judge Aileen Cannon, the federal judge overseeing his classified documents case in Florida, to the Supreme Court? No, that's not true: Trump's purported Truth Social post, which made the claim about Cannon, is not real. There's no record of the post. Furthermore, if Trump had made such a claim, it would have made headlines nationwide, and there are no credible news accounts of his alleged promise to nominate Cannon.
The claim was contained within a post (archived here) on Facebook on November 2, 2023. The post included what looked to be a Truth Social post from Trump that read:
Judge Cannon, a great patriot and fine judge, made an excellent decision in our case against CORRUPT AND LOONEY JACK SMITH and his dirty tactics. Not since KING DAVID has a Judge adjudicated a more Wise Decision! When I win (AGAIN - I NEVER LOST) I will make Judge Cannon a SUPREME COURT JUSTICE as soon as a vacancy is made. I will remake the SUPREME COURT so that these WITCH HUNTS by CORRUPT MEN will never happen again in our Great Country! MAGA!
This is what the post looked like on Facebook at the time of the writing of this fact check:
(Source: Facebook screenshot taken on Fri Nov 3 18:06:20 2023 UTC)
In response to Trump's alleged post, the Facebook post read:
Boom! Just like that Jack Smith has a creditable argument for Cannon to recuse based on the quid pro quo offered here. Openly bribing a judge with the promise of a SCOTUS nomination if they help him.
Clearly, the person behind the Facebook post thought that Trump's purported Truth Social post was real and that he had really promised to nominate Cannon. He didn't.
There is no record on Truth Social of such a post by Trump. If he had made such a post, all major news organizations would have covered it, and there are no credible reports (archived here) of Trump's alleged promise.
Cannon was nominated by Trump to become a district judge in 2020. She is overseeing his documents case in Florida, where the former president has been accused of mishandling classified documents and obstructing government efforts to get them back. On November 1, 2023, Cannon indicated that she may delay the start of Trump's trial, set for May 2024. The former president has pleaded not guilty.