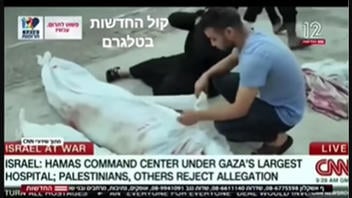 Did CNN air footage of a Palestinian crisis actor wrapped in a white shroud pretending to be a corpse who moved their head instead of staying perfectly still? No, that's not true: The CNN footage shows the body of a dead person wrapped in a shroud that was gathered and tied at their head. When a man adjusted the shroud, the gathered cloth shifted but this movement was not caused by a fake corpse moving.
One example of the claim was posted on Instagram (archived here) by @blackandjewishunity on October 29, 2023. The caption reads:
🧐🧐🧐
#exposehamas #palywood
A text caption added over the video reads:
Credibility of Gaza casualty count continues to come into question; 'dead body' moves in footage aired during CNN broadcast
This is how the post appeared on Instagram at the time of writing:

(Source: Instagram screenshot taken on Thu Nov 02 19:42:48 2023 UTC)
Lead Stories has debunked claims where footage of protests or movie productions with living people who are representing the dead have been falsely portrayed as crisis actors pretending to be real casualties. Another common example of disinformation is when miscaptioned and recycled footage from past events in other places (examples here and here) are presented as part of the current situation. This is not the case here.
Lead Stories reached out to CNN and a CNN spokesperson emailed on November 2, 2023:
This footage was obtained by a trusted CNN freelance journalist in Gaza who filmed it himself and spent time at the scene, shooting additional footage there. We can confirm without question that it depicts a dead body in a shroud.
A copy of the transcript of the CNN International segment narrated by Nada Bashir says it aired October 28, 2023. A 3:19-minute-long video titled "Videos show devastation within Gaza Strip" is posted on the CNN website. The scene in question (pictured below) appears 35 seconds in. The tied gathers of the shroud are visible (inset below) in this CNN video.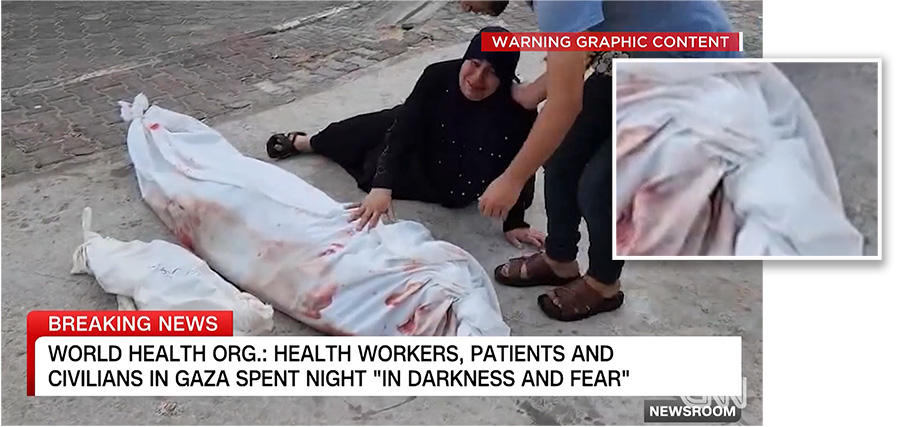 (Source: cnn.com screenshot taken on Thu Nov 02 20:27:15 2023 UTC)
The man in the blue shirt bends down and opens the shroud slightly and then closes it again. When he lifts the cloth, the tied gathers are lifted as well. It is only the cloth being moved. The figure inside the shroud is a casualty in this conflict; they are not an actor pretending to be dead.
This claim was amplified by an Israeli station, Channel 12 news. Copies of the Channel 12 broadcast of the video clip have a red circle highlighting the head area of the shroud, and the Channel 12 logo. Some clips circulating, on X (archived here) and on Facebook, show Israeli journalist and news anchor Dany Cushmaro (far right below) introducing and closing the segment. The two screenshots below show a video of the Channel 12 broadcast on television. The Channel 12 chyron is overlaid on the CNN banner; the Hebrew text, translated by Google Lens, reads:
The 'bodies' presented by Hamas
CNN showed pictures of the dead from the Israeli bombs and then one of the bodies raised its head

(Source: Facebook screenshots taken on Thu Nov 02 22:03:22 2023 UTC)
This crisis actor accusation was also shared on X by the State of Israel's official Twitter account @Israel, on October 30, 2023. This post has since been deleted but is archived here and pictured below. The post was captioned:
Reminder:
The Gaza Ministry of Health=Hamas
Bodies can't move their heads.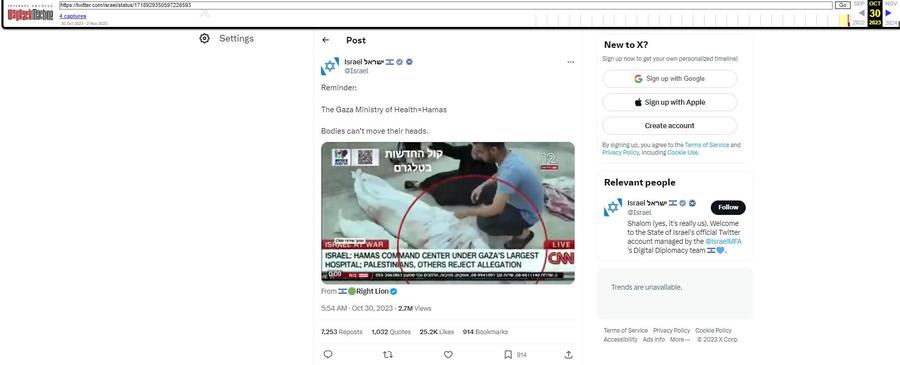 (Source: archive.org screenshot taken on Thu Nov 02 22:16:23 2023 UTC)
Other Lead Stories fact checks of claims about the 2023 Hamas-Israel crisis can be found here.