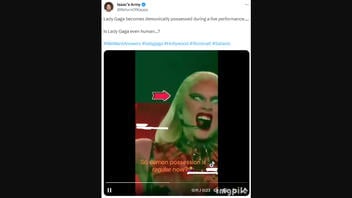 Does a video circulating on social media show singer Stefani Germonotta, otherwise known as Lady Gaga, "becoming demonically possessed" during a live performance? No, that's not true: This video has been digitally altered. The original video, taken from a film made of her 2022 summer tour by her fan base, shows Gaga performing with her real eye color -- not white eyes that seem paranormal.
The claim appeared in a post (archived here) on X, formerly known as Twitter, on November 8, 2023. The caption opened:
Lady Gaga becomes demonically possessed during a live performance.....

Is Lady Gaga even human...?

#WeWantAnswers #ladygaga #Hollywood #illuminati #Satanic
On a video showing Gaga performing live onstage, where her eyes appear supernaturally white, there is text overlay that reads:
So demon possession is regular now? 🤷🏼‍♀️
This is what the post looked like on X at the time of writing: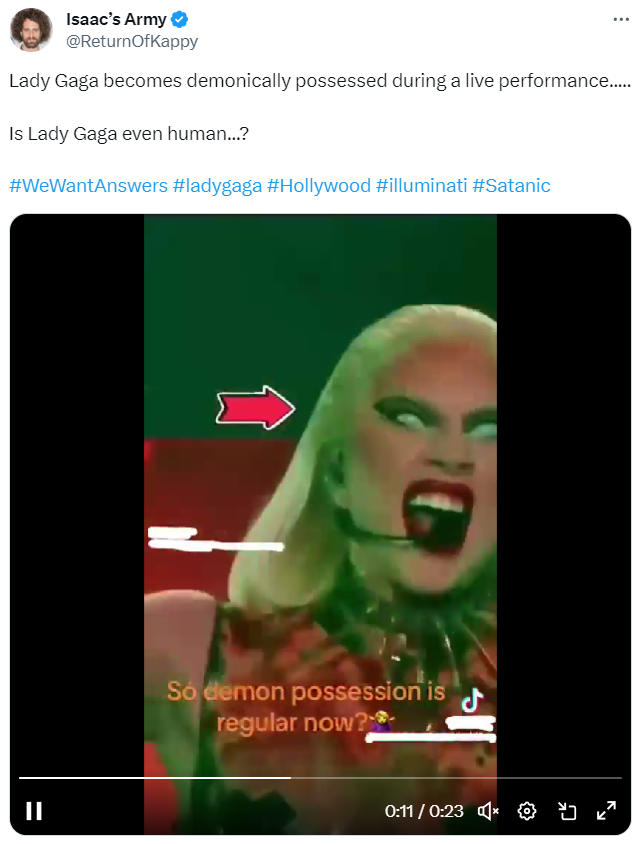 (Source: X screenshot taken on Thu November 9 16:41:12 2023 UTC)
The video seen in the post originated from a TikTok account with the handle @venom_presents, found by a search on TikTok for a post with the keywords in the video. The viewer of the video on this account is then directed to the YouTube page of "VENOM Presents." When translated to English, the summary on this page says it's a documentary series about "public people" directed by a person named Carlos Lima.
The exact footage from the X platform and TikTok post, which has been edited to make Gaga's eyes appear supernaturally white, is seen at the 1:12 mark an April 10, 2023, video titled, "Lady Gaga - Replay & Monster Live from Chromatica Ball (The 6th Manifesto, Chapter 2.2) 4K," on this same YouTube Account. The description underneath the video reads:
The Sixth Manifesto is a video series about Lady Gaga and the Chromatica Ball as a journey to heal. Produced by Venom Presents and little monsters' community. Made by fans, for fans.
The original and unedited version was taken from an August 14, 2022, YouTube video titled, "Lady Gaga - Replay (Live at Chromatica Ball)," on the YouTube-verified Gaga Daily fan page. At 31 seconds in, Gaga is seen in a higher-quality video, looking natural with stage makeup but with no special effects.
Lead Stories has reached out to the public relations representatives of Germanotta and will update this fact check if a response is received.
Additional Lead Stories fact checks that mention Lady Gaga can be found here.