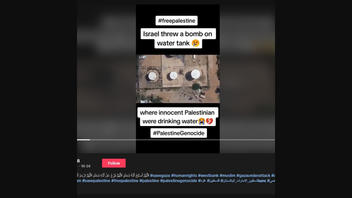 Does a video show Israel bombing a Palestinian water tank, injuring civilians? No, that's not true: The video was not taken in Palestinian territory and does not show a water tank being attacked. Rather, it shows the bombing of a fuel tank in Sudan during the 2023 conflict there.
The claim appeared in a video (archived here) on TikTok on October 24, 2023. The video showed an aerial view of what appeared to be a tank containing some sort of substance being bombed while people were standing around it. The text superimposed on the video read:
#freepalestine Israel threw a bomb on water tank😢where innocent Palestinian were drinking water 😭💔 #PalestineGenocide
This is how the video looked on TikTok at the time of writing: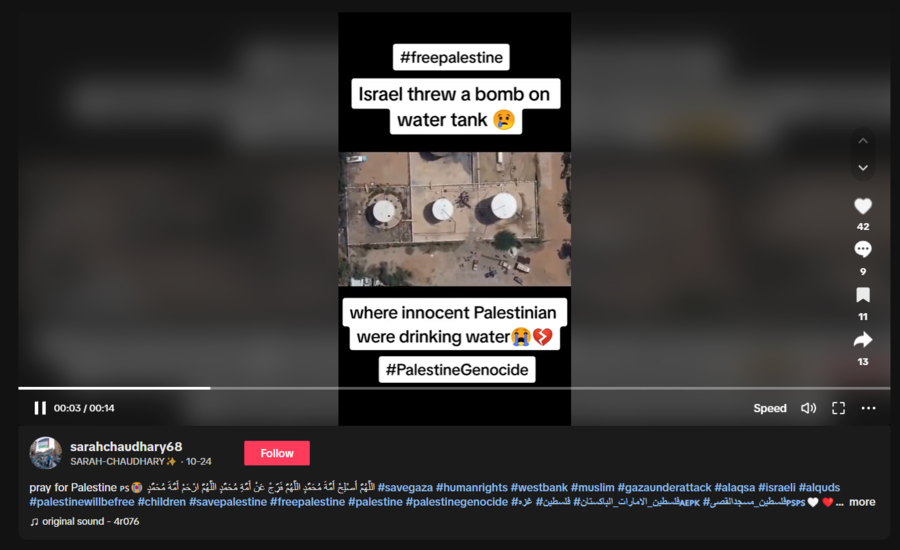 (Source: TikTok screenshot taken on Thu Nov 9 18:21:47 2023 UTC)
However, the video was not filmed in Palestinian territory. It was posted by news organization Al Jazeera on the organization's official Facebook page on October 12, 2023 (archived here). The post's video, translated from Arabic to English using Google Translate's browser extension, was titled and captioned:
A Sudanese army march bombed a fuel tanker belonging to the Rapid Support Forces in Khartoum #Video #Al Jazeera_Sudan
Another social media account that posts news related to Sudan, called Sudan News on X, the platform formerly known as Twitter, also posted the video on October 12, 2023 (archived here). The X platform post included text that, translated from Arabic to English, read:
An army march targeting a group of Rapid Support militia mercenaries, who gathered to refuel their motorcycles.
At the time of writing, Sudan was experiencing a war that began on April 15, 2023, between the Sudanese Armed Forces and the Rapid Support Forces, a paramilitary group. Since the beginning of the war, thousands of civilians have been killed and millions have been displaced from their homes, with the conflict being called an "unimaginable humanitarian crisis" by the United Nations Refugee Agency (archived here).
Other Lead Stories articles on claims pertaining to the 2023 Hamas-Israel conflict are here.