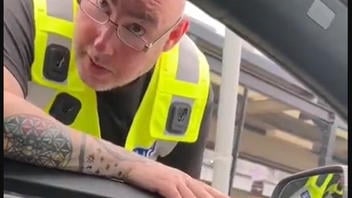 Does a video posted on social media show a genuine British police officer questioning a driver, who is waiting for a friend at a train station, to exclude him as a suspect in a crime "that may or may not be currently in progress"? No, that's not true: This is a skit staged for social media. The man playing the role of the police officer has appeared as different characters in other confrontation skits.
The video (archived here) was posted on X, formerly known as Twitter, by @CatchUpFeed on November 2, 2023. It was captioned:
This British cop would've failed out of the academy if they had any standards left.
This is what the post looked like on X at the time of writing: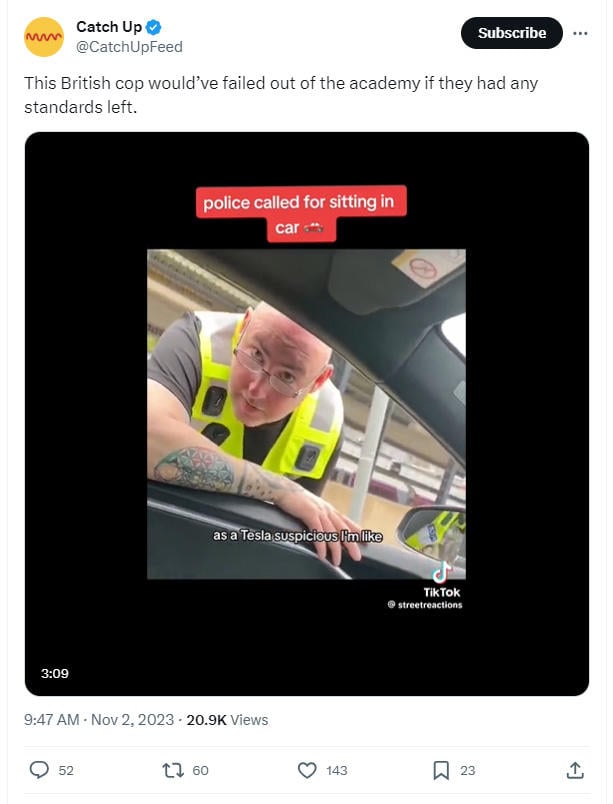 (Source: X screenshot taken on Fri Nov 3 16:30:44 2023 UTC)
This video does not show a motorist being questioned by a real policeman. Not only does the policeman lack key elements of a uniform, such as a badge, the video bears the watermark of the TikTok account @streetreactions, where it was posted on November 1, 2023. The video was captioned with 17 hashtags including #ukcomedy twice:
#karen #ConSantanderConecto #fyp #foryou #xcyzba #trending #xyzbca #viralvideo #viral #foryoupage #tiktok #trend #ukcomedy #police #ukpolice #ukcomedy #uk
The creator of this skit appears to be Hamad Khan, a boxer who goes by the nickname Halal Ham @thehalalham. Khan has accounts on YouTube, X, TikTok, Facebook and Instagram. Not all of Khan's videos are posted on all these accounts, and the policeman video does not appear to be posted on any of Khan's Halal Ham accounts.

Many of the other skit videos have themes of confrontations that were filmed at the same locations with the same actors and also with electric cars. The amount of cross-connections between the content of the Halal Ham accounts leaves little doubt that the policeman skit is one of his.
The composite image below shows two additional roles played by Lee River, the actor with the arm tattoos who played the part of the policeman in the train-station skit. The video pictured on the left was posted on @TheHalalHam YouTube. It shows a confrontation between a resident and a man who parked in a private parking space and is using the resident's electricity to charge an electric car. On the right, in a video posted on @thehalalham TikTok, River appears again, this time drinking a cocktail on a hot day while having a soak in a wheelie bin.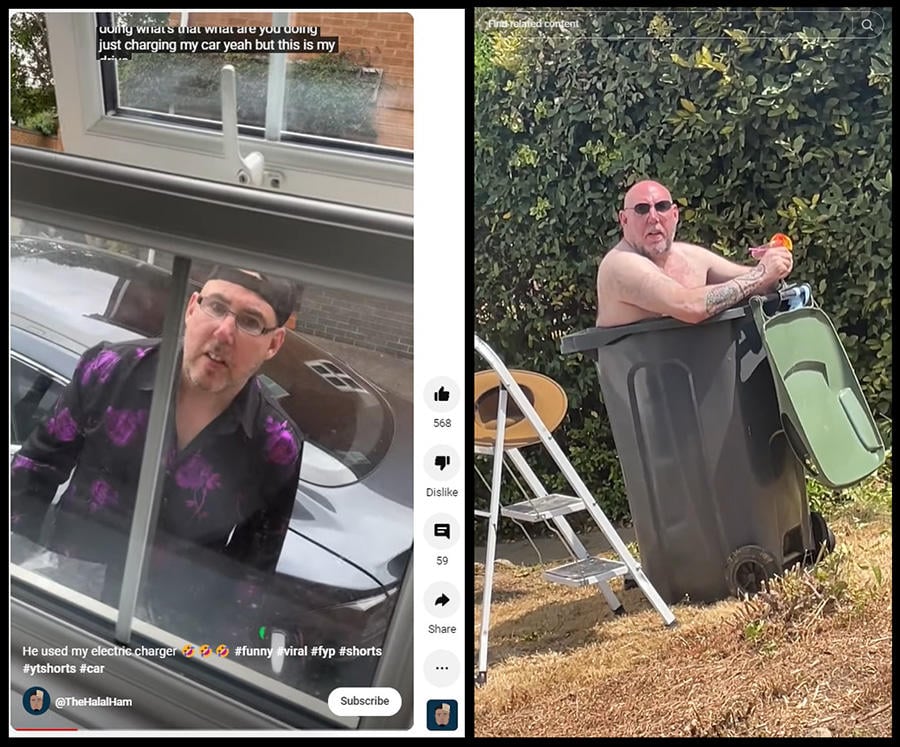 (Source: Lead Stories composite image with YouTube and TikTok screenshots taken on Fri Nov 03 18:55:18 2023 UTC)
Lead Stories has debunked several skit videos (here) featuring police theme plotlines that caused confusion over whether they were real or not.