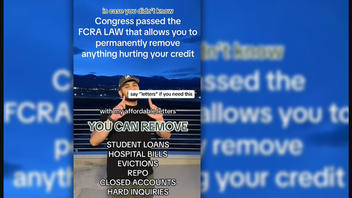 Does the Fair Credit Reporting Act allow anyone to permanently remove anything hurting their credit report? No, that's not true: Consumers have the right to dispute inaccurate information, but there is no new provision that allows a customer or company acting on their behalf to remove accurate but negative information from a credit report. The FCRA, which was passed in 1970 and has been amended several times over the years, regulates credit reporting agency practices.
The claim appeared in a video posted on Instagram (archived here) by @officialjaviermedina on November 16, 2023. It was captioned:
YES everything will be permanently removed, results vary but most start seeing removals in 30 days

#reels

#finance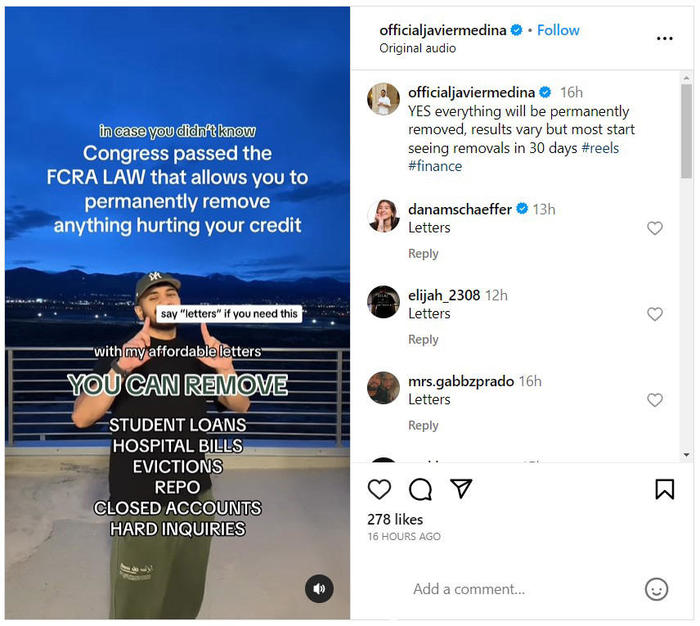 (Source: Instagram screenshot taken on Fri Nov 17 16:50:51 2023 UTC)
The text over the video reads:
in case you didn't know
Congress passed the FCRA LAW that allows you to permanently remove anything hurting your credit

say 'letters' if you need this

With my affordable letters
YOU CAN REMOVE
STUDENT LOANS
HOSPITAL BILLS
EVICTIONS
REPO
CLOSED ACCOUNTS
HARD INQUIRIES
An October 27, 2020, article published by the Federal Trade Commission provided an overview of the Fair Credit Reporting Act (.PDF document here) since the statute was enacted in 1970. The article lists the act's three main features:
First, the law is designed to promote the efficiency of the nation's consumer credit systems. Pre-FCRA, people had to wait weeks before their applications for credit could be evaluated - delays that could inconvenience and injure consumers. Second, the FCRA includes express mandates to improve the accuracy and integrity of the information included in consumer reports. And third, the law includes provisions to prevent the misuse of sensitive consumer information by limiting access to those who have a legitimate need for it.
The Consumer Financial Protection Bureau (CFPB) published a fact sheet, updated on November 7, 2023, titled, "How can I tell a credit repair scam from a reputable credit counselor?" In the section on recognizing a credit repair scam, the two points below are especially relevant to this and other posts (here) from this Instagram account:
Promises to remove negative information from your credit report. The company tells you it can get rid of negative credit information, even if that information is accurate and current. No one can do this.
Requests you dispute accurate information in your credit report. The company advises you to dispute all the information in your credit report, even if it is correct and timely.
In a separate page dedicated to the question "Is it possible to remove accurate, negative information from my credit report?", the CFPB writes:
You have the legal right to dispute inaccurate information directly with both the credit reporting companies and the companies that furnish your information to the credit reporting companies. To fully protect your rights, you should always dispute credit report inaccuracies with them both. They must conduct a reasonable investigation, and fix mistakes as needed, usually within 30 days, at no cost to you.

There is no reason to pay someone else to dispute inaccuracies on your credit report for you as it is already a legal right available to you for free.
Lead Stories contacted the CFPB by email on November 11, 2023, for comment and will update this article, as necessary, if a response is received.
The @officialjaviermedina Instagram account shows affiliation with a direct sales company called myEcon, Inc. This company offers a product called myCredit System, which is described as a credit-education course, available for a $99.95 one-time enrollment fee.

The Better Business Bureau site, however, shows that complaints about myEcon, Inc. have recurring themes. Some consumers who enrolled in the credit-educaton course had a $39.95 fee deducted from their account monthly and said they found it difficult or impossible to cancel.

In one response to a complaint posted on the BBB site on January 6, 2022, myEcon acknowledged, counter to the promise seen on Instagram, that their process is not a loophole to get accurate information removed from a credit report.
*************** states that "he followed the steps to remove student loans and other negative stuff on his credit report and nothing got removed".The myCredit System teaches members the process to dispute incorrect items or errors on their credit report. This dispute process is directly from the **** (Fair Credit Reporting Act). If you feel the response you received from the credit bureau is incorrect, then you are to follow the process of disputing the items again. The myCredit System explains what to do if the items on your report are in fact incorrect or errors and the bureaus did nothing to correct it. You must complete the entire process. If after following all of the dispute processes and they are still not corrected or removed, then the credit bureaus have deemed these items as correct. The myCredit System can only give you **** instructions on the process to follow.