The California man who killed 12 people and wounded another 70 in a massacre inside a movie theater in suburban Denver, Colorado, in July 2012 will serve life in prison without the possibility of parole. Jurors were unable to reach a unanimous agreement on the death sentence for James Holmes Friday.
Holmes, 27, was convicted on 24 counts of first-degree murder -- two for each theater-goer who died.
The bloody attack happened inside the Century movie theater in Aurora, Colorado, during a midnight showing of "The Dark Knight Rises." Holmes was heavily armed when he burst through a door in the rear of the movie house and began firing on the audience.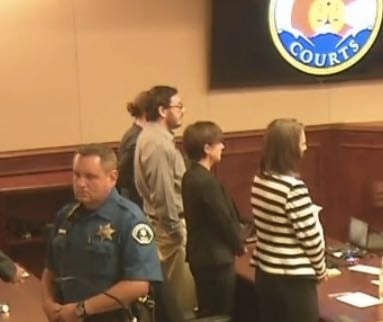 His lawyers argues he was mentally ill. He colored his hair orange like the Batman film villain The Joker because he was suffering a psychotic episode, they contended in the effort to convince jurors to spare his life. Prosecutors argued that Holmes acted rationally in other areas of his life, despite his alleged mental illness.
Holmes plea of not guilty by reason of insanity included an admission that he carried out the killings.
Lead Stories' Trendolizer is constantly scouring social networks for stories related to John Holmes and similar crimes. Scroll down to see the latest.