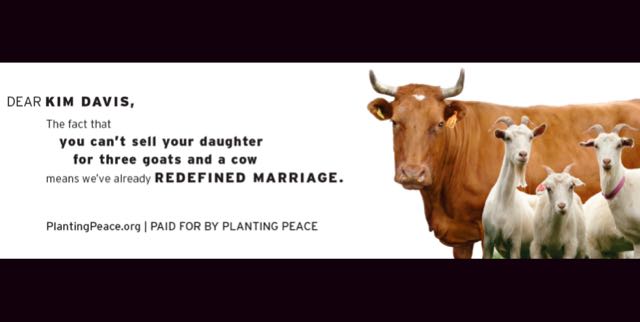 When Kim Davis returns to her county clerk job Monday for the first time since she left jail, she may pass by a new billboard that mocks her opposition to same-sex marriage.
The message put up in Davis' hometown of Morehead, Kentucky, displays a "Dear Kim Davis" message: "The fact that you can't sell your daughter for three goats and a cow means we've already REDEFINED MARRIAGE." A photo of a large brown bull and three goats is included.
Davis was found in contempt of court and jailed for six days after defying a federal judge's order that her county clerk's office issue licenses to same-sex couples in compliance with the recent U.S. Supreme Court decision. Davis invoked "God's authority" for her refusal, saying it violated her religious beliefs because it did not fit with the biblical rules for marriage.
The group Planting Peace said an online blog that it was pointing out that "a substantial number of zealots" who oppose Gay and Lesbian marriage "pick and choose what they wish to convey as immoral and unacceptable, while seemingly sweeping lines of scripture just a few letters away completely under the rug." The billboard is a reference to biblical passages that condone the exchange of livestock for brides.
Davis has been criticized as being a hypocrite for her defense of "traditional marriage" by refusing same-sex licenses, while she is on her fourth husband.
Lead Stories' Trendolizer scours social networks globally looking for the hottest trending content concerning same-sex marriage. Scroll down to see the latest.