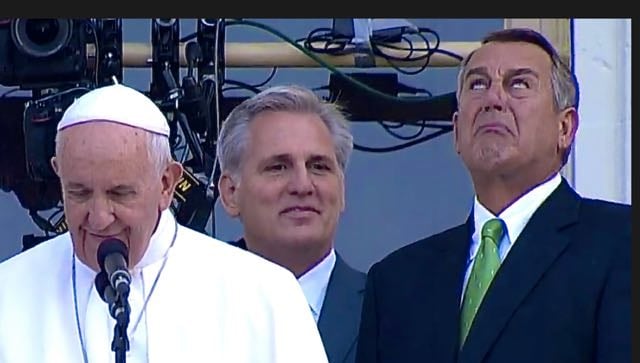 U.S. House Speaker John Boehner renewed his attack on Sen. Ted Cruz, suggesting he was a "false prophet" for "spreading noise about how much can be done" by Congress and whipping "people into a frenzy that they can accomplish things that they know are never going to happen."
Boehner appeared on CBS' Face the Nation Sunday, two days after he announced he was leaving Congress and three days after an emotional Capitol Hill meeting with Pope Francis.
"Beware of false prophets," Boehner warned. He pointed to what he said about Cruz in a speech in Steamboat Springs, Colorado, in August when he called the Texas senator a "jackass" for trying to shut the federal government down as a tactic to abolish ObamaCare.
Boehner said despite a deadline four days away for the government's budget to expire because a wing of the Republican caucus demanding defunding of Planned Parenthood, he does not think there will be another shutdown.
He still has 30 days left as the House leader and he expects his "Democratic colleagues want to keep the government open as much as I do," he told the CBS show. "I don't want to leave my successor a dirty barn."
As for the surprise announcement Friday that he was leaving Congress next month, he conceded that his private time with Pope Francis a day earlier played a role in the decision. "It helped clear the picture," he said.
Boehner described "a wonderful chat" with the pope "about my commitment to kids and education" that ended with Pope Francis blessing his 6-week-old grandson. Then the pope said "Please pray for me."
"Well, you can imagine I was a mess," Boehner said. "Who am I to pray for the Pope? But I did."
Boehner said it was too emotional for him to repeat the pope's other words without crying.