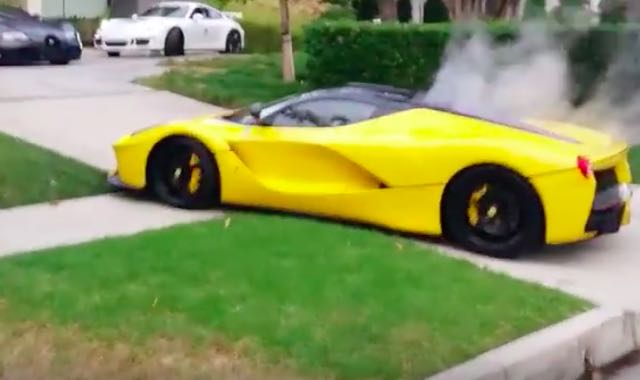 Beverly Hills cops are investigating a viral video of a Ferrari LaFerrari -- valued at about $1.5 million -- racing a Porsche GT3 on an otherwise quiet residential street on Saturday, September 12, 2015.
The probe involves the U.S. State Department since the driver claims he has diplomatic immunity from prosecution. The yellow supercar -- which can accelerate from a dead stop to 60 mph in 3 seconds -- is registered in the middle eastern country Qatar.
The two cars ran a stop sign and nearly crashed into other cars at one point in the video.
"The kids were terrified and the neighbors were out and this woman was screaming 'cause her husband almost got run over," neighbor Roya Levian told Los Angeles TV station NBC4.
The Ferrari's rear engine was smoking after the race when it pulled into the driveway of a home that apparently was its home base.
Odd aspects of the video which indicate the race was well planned include the black SUVs following the racers and the presence of several spectators with cameras ready before the speeders go by.
Lead Stories' Trendolizer loves fast cars and scours social nets for trending content about them. Scroll down to see the latest.