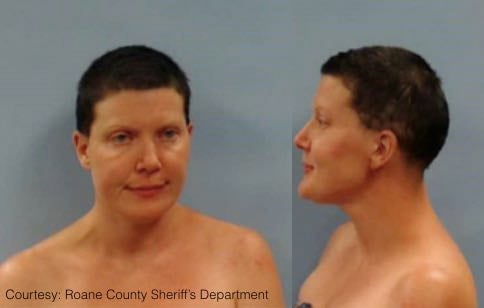 "Star Trek: Voyager" actress Jennifer Lien allegedly went where no woman should go in front of young children. Lien was jailed on charges of exposing her breast and buttocks in front of children younger than 13, according to Roane County, Tennessee, jail records.
Lien, who played "Kes" on the sci-fi TV series from 1995 through 2000, was arrested on September 3, 2015 and was still locked up unable to post a $2,500 bond nearly two weeks later, according to jail records.
Variety.com quotes the arrest report as saying a neighbor complained to the Roane County Sheriff's Department that Lien was naked in the yard of her Kingston, Tennessee, home yelling at a crying child. The actress was still naked when deputies arrived, the report said.
"The offender stated she wasn't going any f-king where and we needed to leave her alone," the office wrote in his report, according to Variety. She also allegedly threatened to have the deputy killed, the report said.
Lien faces two counts of indecent exposure involving a victim under 13 years of age.
Lead Stories' Trendolizer constantly scours social nets for trending stories about celebrities gone wild. Scroll down to see the latest.