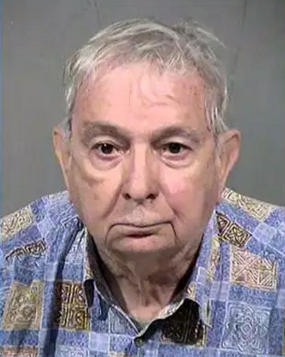 John Feit (pictured above) has been arrested on charges stemming from a previously unsolved murder of Texas beauty queen, Irene Garza.
For decades, a mystery has swirled in regards to a young schoolteacher and beauty queen who was last seen at church in the Texas city of McAllen.
Now, nearly 56 years after the bludgeoned body of 25-year-old Irene Garza was pulled from an irrigation canal, police have arrested the man long suspected in her slaying: the former priest who apparently heard her final confession.
"This whole thing makes no sense to me because the crime in question took place in 1960," Feit said.
83 year-old John Bernard Feit appeared in court Wednesday in Phoenix after being arrested a day earlier at his home in Scottsdale, Arizona, on murder charges. He was jailed with bail set at $750,000 while he awaits transfer back to Texas for trial.
Authorities said Garza visited Sacred Heart Catholic Church in McAllen, where Feit was a priest, on April 16, 1960. Garza had planned to go to confession that evening but never returned home.
A few days after Garza's death, rumors whirled and suspicion fell on Feit, who told police he had listened to her confession in the church rectory rather than in the confessional. Feit maintained his innocence and left the priesthood in 1973, to then move to Phoenix, Arizona where he worked for a Catholic charity organization.
Dale Tacheny, a former priest at a Missouri monestary where Feit lived in 1963, said that Feit had confessed to him that he had had murdered a young woman. It wasn't until years later that Tacheny put the pieces together and realized it was Feit who had murdered Ms. Garza.
Lead Stories' Trendolizer™ is constantly scouring the web for the hottest news, viral videos and images.
Follow us on Facebook and Twitter @LeadStoriesCom for your daily news.