Also see: Protester Who Rushed Donald Trump Stage NOT With ISIS: 'Propaganda Video' Faked!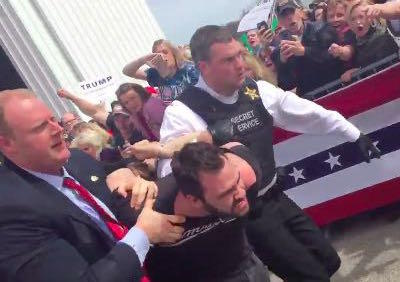 Donald Trump's claim that the man arrested for rushing the stage at his Dayton, Ohio, rally Saturday is "probably or possibly ISIS related" is inaccurate and based on a fake ISIS video posted on YouTube. The video, which includes arabic texts and ISIS images, was produced from an authentic video of the protester taking part in a campus protest last year. But a translation of the arabic reveals it was produced by someone who was in fact anti-ISIS.
Here are two video of the protester who caused the scary moment for Donald Trump at an Ohio rally Saturday.
This video posted on Instagram shows the man jumping a barrier and rushing the stage, where Secret Service agents tackled him.
This next video shows the protester being carried away.
My video of the trump rally would be attacker pic.twitter.com/oTfzjprcqC

-- Jim W (@WamplerJim) March 12, 2016
The protested may be missing this:
Secret service left the dudes shoe pic.twitter.com/cApUyk2x5z

-- Jim W (@WamplerJim) March 12, 2016
The protester, identified as Tommy Dimassimo, was charged with inducing panic and disorderly conduct. Dayton, Ohio, police released this mugshot.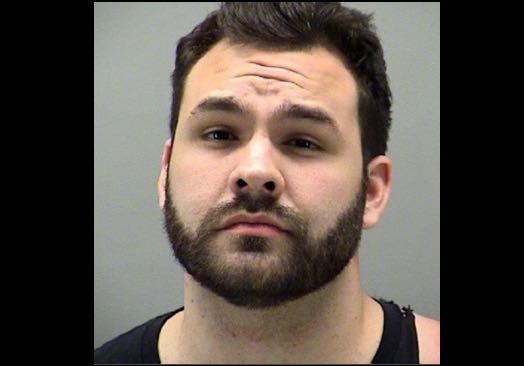 Lead Stories found this video of Dimassimo, who apparently was a student Wright State University, leading a campus protest against the American flag.
Reports that Dimassimo is an ISIS sympathizer are apparently false. Another version of the above video was reposted on YouTube with ISIS images and music added, but a translation of the arabic text reveals that is it not authentic, but apparently published by someone who was not a fan of Dimassimo.
See also: Stage Fright: Secret Service Jump To Shield Donald Trump At Rally Podium