Donald Trump's 'Crooked Hillary' tweet that included a red six-pointed star on a bed of money prompted Dr. Ben Carson -- who endorsed Trump soon after dropping out of the GOP presidential race -- that he "must be careful" with Twitter. Carson tweeted the warning Tuesday and also issued a statement saying such tweeting "would never occur" on his account.
Trump defends the meme as a sheriff's badge, not the Jewish symbol, although it was discovered the image was first published on a message board for neo-Nazis, anti-Semites and white supremacists a week before Trump included it in a tweet attacking Clinton, according to Mic.com
Dishonest media is trying their absolute best to depict a star in a tweet as the Star of David rather than a Sheriff's Star, or plain star!

-- Donald J. Trump (@realDonaldTrump) July 4, 2016
Carson tweeted Tuesday: "Social media provides a great platform for discourse, but we must be careful with the messages we send out."
Social media provides a great platform for discourse, but we must be careful with the messages we send out.

-- Dr. Ben Carson (@RealBenCarson) July 5, 2016
The retired neurosurgeon also told NBC News in a written statement: "Trump has to be careful about RT any and everything," the statement read. "This would never occur from Dr. Ben Carson's account because we know that he has a platform and we must take care of that platform and be wise with the messages disseminated."
Trump defenders argued that the New York real estate tycoon could not be antisemitic since his daughter Ivanka has converted to Judaism after marrying a Jew. His new grandson is also Jewish, they point out. Also, they note that Clinton is a Christian and attacking her with a Jewish symbol would make no sense.
However, the neo-Nazis who oppose Clinton believe the presumptive Democratic presidential nominee is controlled by Jewish money, which is what is portrayed in the meme. The graphic attacks Clinton as the "Most Corrupt Candidate Ever!' -- with this words inside a red six-point star laid over a background of money. While Trump aides say it was just a star -- perhaps a sheriff's badge -- anti-Trump eyeballs saw the jewish Star of David as a "dog whistle" to attract antisemitic support.
Trump deleted the tweeted hours after posting it. He then tweeted another version with the star replaced with a circle, although one point of the star was still visible.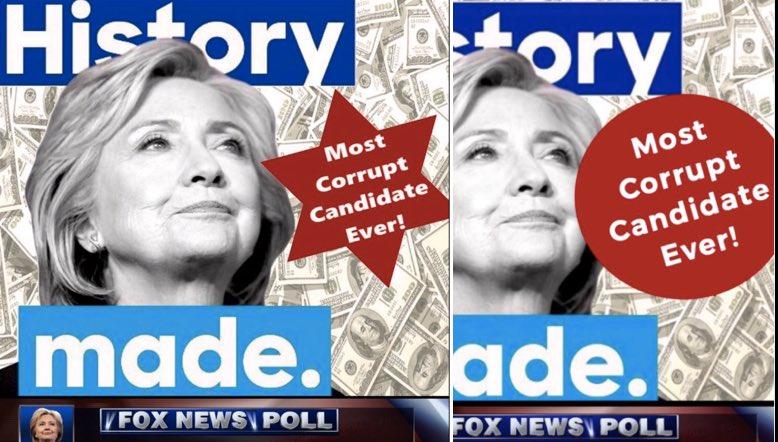 See Also: Donald Trump Defends 'Crooked Hillary' Meme That Originated On Neo-Nazi site, Blames 'Dishonest Media' For Calling It 'Star Of David'