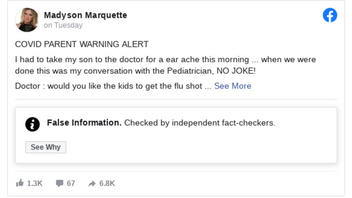 Are vaccines available to prevent COVID-19 as of September 18, 2020? No, that's not true: Although the race is on to find a safe and effective vaccine, none has been approved for use in the U.S.
The claim appeared in a post (archived here) on Facebook on September 15, 2020. Under the headline "COVID PARENT WARNING ALERT," the post told the story of a doctor offering a "Covid flu shot". It opened:
I had to take my son to the doctor for a ear ache this morning ... when we were done this was my conversation with the Pediatrician, NO JOKE!

Doctor : would you like the kids to get the flu shot

Me: (I was curious) what strain of the flu is

Doctor: Covid but a very low strain of it
This is what the post looked like at the time of writing:
(Source: Facebook screenshot taken on Fri Sep 18 14:30:31 2020 UTC)
The post continued:
Doctor: they are really pushing us to push parents to get the flu shots for kids.

Me: I'm not a fan of what's going on in the world and I'm not giving my children a untested Covid flu shot.

Doctor: I am sure if you and I sat and talked we would have similar beliefs on what's going on.

Me: then why are you pushing a vaccine that's not tested or Barely tested

Doctor: Because they tell us to.

Me: who tells you?

Doctor: CDC

Wake

UP

and

for all the is Holy DO

NOT

GIVE

your

children

a

Covid

vaccine!!
The post appears to conflate a seasonal flu shot with a vaccine for COVID-19. They are not the same thing. Although the seasonal flu and COVID-19 are
both contagious respiratory illnesses
, different viruses cause each of them. Various approved vaccines do exist for the seasonal flu.
There is no vaccine available for COVID-19, although many are in development. Here's what the U.S. Food and Drug Administration has said:
There are currently no vaccines available for the prevention of COVID-19. The FDA is expediting clinical trials for vaccines by providing timely advice to and interactions with vaccine developers. The FDA is also supporting product development and scaling up of manufacturing capacity for high priority vaccines for COVID-19.
According to the
World Health Organization
, there are more than 169 vaccine candidates in development, including more than two dozen that are in the human trial phase. There is a global race underway. Just this week, the U.S. Department of Health and Human Services (HHS) and Department of Defense released documents
outlining their strategy
to deliver "safe and effective COVID-19 vaccine doses to the American people as quickly and reliably as possible." HHS Secretary Alex Azar said:
As part of Operation Warp Speed, we have been laying the groundwork for months to distribute and administer a safe and effective

COVID-19

vaccine as soon as it meets FDA's gold standard. This in-depth, round-the-clock planning work with our state and local partners and trusted community organizations, especially through CDC, will ensure that Americans can receive a safe and effective vaccine in record time.
Contrary to the post's claim, however, that time has not yet come. There are no approved vaccines for COVID-19.