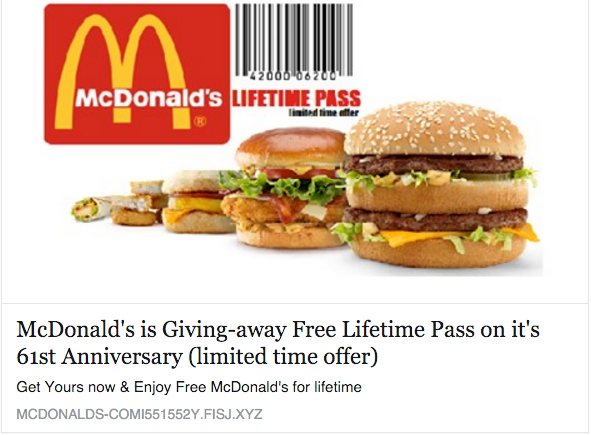 Lead Stories' Trendolizer has detected photos circulating social media claiming McDonald's is giving away a 'Lifetime Pass' on its 61st anniversary.
We are saddened to tell you that this is absolutely a hoax. These types of scams have been around the internet for years, and it doesn't appear they will be stopping anytime soon. Scammers post fake 'free lifetime passes' with poorly photoshopped company logos and terrible grammar in an effort to get the unsuspecting to click on a link. That person then gets malware or a virus on their computer, while the swindlers also get monetizable website traffic.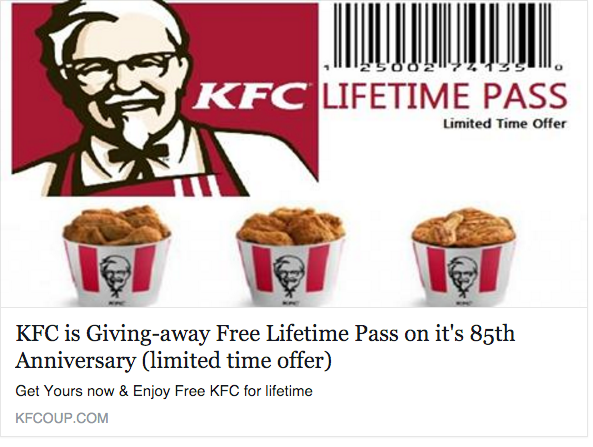 When you click on the link from this KFC coupon advertisement, it has KFC as the first characters, but the rest looks suspicious (kfc-comz753760o.luckies.xyz).
The BBB (Better Business Bureau) even posted an article detailing ways to protect ourselves online from similar scams:
"Don't believe what you see. It's easy to steal the colors, logos and header of an established organization. Scammers can also make links look like they lead to legitimate websites and emails appear to come from a different sender.
Legitimate businesses do not ask for credit card numbers or banking information on customer surveys. If they do ask for personal information, like an address or email, be sure there's a link to their privacy policy.
When in doubt, do a quick web search. If the survey is a scam, you may find alerts or complaints from other consumers. The organization's real website may have further information.
Watch out for a reward that's too good to be true. If the survey is real, you may be entered in a drawing to win a gift card or receive a small discount off your next purchase. Few businesses can afford to give away $50 gift cards for completing a few questions."
While we know this isn't the first time social media has shared a fake advertisement that claimed 'free food for life', we're also sure it won't be the last.
Follow us on Facebook and Twitter @LeadStoriesCom for your daily news.