According to an article making the rounds online, scientists at the Tehran University of Medical Sciences (TUMS) have developed a vaccine which could possibly alter the gene responsible for homosexuality and pedophilia. The news was supposedly first reported in the "Persian Times".
The article also explains how this supposed vaccine works:
The newly developed vaccine uses DNA-altering technology to 'knock out' a prostate gene believed to raise sexual tension and bloodstream levels in mice when in contact with younger animals or animals of the same sex.

The DNA-altering approach for permanently reducing homosexual and pedophile behavior in mice with a single injection could potentially reduce these sexual instincts by up to 90 percent believes Nasser Zolfaghari, PhD and assistant professor at the Tehran University of Medical Sciences.
Of course the story is completely false. There is no paper or website named "Persian Times" (there is a Tehran Times and a Pars Times though). The Tehran University of Medical Sciences does exist, but a search on their website for the scientist quoted in the article ("PhD Nasser Zolfaghari") yields no results at all (although there is a doctor by that name in New York). The picture that supposedly shows this Nasser Zolfaghari is actually of Dr Mahdi Balali-Mood
...a prominent Iranian researcher, physician and clinical toxicologist, who "has dedicated his career to the treatment of victims of chemical warfare agents".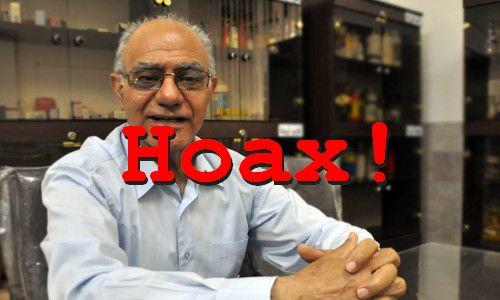 The real source of the story is the World News Daily Report, a fake news website well known for its made up coverage of spectacular but made up events.
So don't be like all these people who unthinkingly shared the article on social media. Perhaps some smart scientist could come up with a vaccine for gullibility some day?