There's a NOT TRUE story starting to make the rounds on the internet stating that "Cop Maces Little Black Girl After She Throws Lego at Him And Calls Him "PIG." Although the story comes from Now8News, a known hoax site, some people are unaware of that and continue to share this ridiculously racist HOAX story.
The HOAX story states that this incident recently happened outside a Donald Trump campaign rally in Rocester, New York. A brief wrap-up of the story:
I was walking behind the mom and her kids when I saw the little girl pull a Lego out of her pocket," said Shauntee McPherson. "Then that little girl threw it right at the cops head! Then she called him a pig! I can't believe what I saw and what I heard."
And a final jab at Donald Trump in the HOAX story:
If Donald Trump wins this election, we better get used to this type of treatment," said Lida Salinger, head of the Hispanic Human Rights Movement. "As a matter of fact, you might want to stock up on water and food because we believe that if he is elected there is going to be a race war. Prepare yourselves and your family.
The image used in the HOAX story is real but does not come from the United States. The image is from a 2011 article from Rio translated as "MP investigates possible PM of abuse of power that would have fired pepper spray in the child's face, in Niterói." It's unfortunate that this image has to be real, no matter what part of the world it comes from.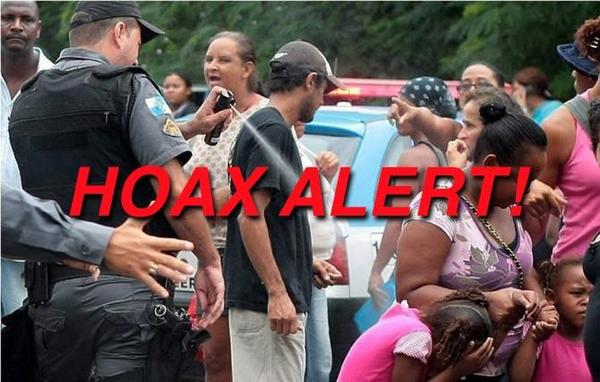 Lead Stories' Trendolizer™ is constantly scouring the web for the hottest news, viral videos and images.