There is a HOAX story trending on the internet stating that "Dad Starves 5 Year Old Son, Uses Food Stamp Money To Buy Prostitutes." This is an example of one HOAX site taking a story from another HOAX site and republishing it. Saves time I guess.
The NOT TRUE story in a nutshell:
The father accused of starving his five-year-old son and keeping him a prisoner in a closet says he "doesn't know why he so skinny." Robert Staton, 48, has been charged with felony child endangerment after the boys older brother told cops the child was starving and kept inside a tiny closet under the stairs so that the "prostitutes his dad purchases with food stamp money won't see him. I'm innocent. The kid just doesn't want to eat and I can't force him.... and he likes to play in the closet under the stairs, it reminds him of Harry Potter. What am I supposed to do, tell him he can play there?"

The image of the severely thin child used in the HOAX story actually comes from TRUE story that is equally disturbing as the prior. The DailyDot published a story in 2014 with the title "Anonymous rallies support for child abuse victim Jordan Bleimeyer," in reference to a shocking case of child abuse by his father and stepmother. It's so disturbing that a website would use this image for their gain, in a hoax story no less.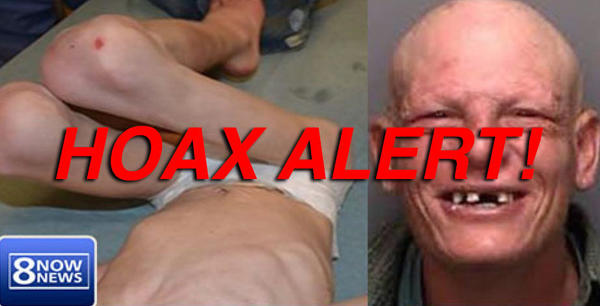 The mugshot used in the HOAX story has been making the rounds on the Funny Mugshot circuit for years and has been used in such stories as "Father Hires Man To Give His Daughter Herpes." We are still researching the source of the image but it is safe to say that the man pictured DID NOT starve a 5 year old, nor did he buy prostitutes with food stamp money.
Lead Stories' Trendolizer™ is constantly scouring the web for the hottest news, viral videos and images.