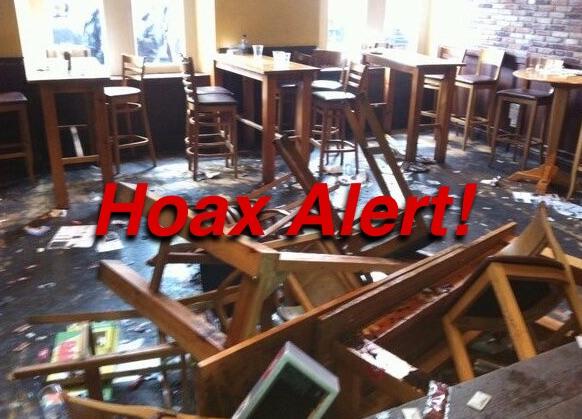 There is another beautiful hoax making rounds on social media this week that claims a disabled woman in a wheelchair and a mother got into a brawl over a handicap/diaper changing stall at a restaurant in London. There is no truth to this story whatsoever, as it is completely UNTRUE.
The FALSE story published by Southendnewsnetwork reads:
Police officers have promised that there will be a full and thorough investigation after a massive brawl in a Southend pub restaurant this evening. According to witnesses in The Ravenous Pelican on London Road, 'frightening levels of violence' were triggered when a young mum wanted to use the combined Baby Change / Disabled toilet at the same time as someone in a wheelchair, with neither individual prepared to allow the other to use the facilities first.
To begin, "Ravenous Pelican" is not a restaurant in any city; additionally, the owner "Stickit Inns", is obviously not a real person. The image that was taken and used in this FAKE story was taken at The Great Western Pub in Bristol city, after soccer fans boycotted various political events that had taken place years prior.
Even though this story is bogus, feel free to leave it to your imagination as to how a woman in a wheelchair could possibly have had a scuffle so intense to have turned this pub upside down.
Lead Stories' Trendolizer™ is constantly scouring the web for the hottest news, viral videos and images.