The HOAX site Now8News is back at it again with the falsities, this time with a NOT TRUE story alleging that a "Shoplifting Walmart Man Hospitalized After Lysol Can 'Explodes Under Pressure' In Anus." There was a similar doozy of a story posted yesterday, only the can of Lysol was replaced with a can of cinnamon rolls.
The NOT TRUE story in a nutshell:
Now that's what I call a real sh*tty day... A man in Tulsa, Oklahoma learned the hard way that stealing is not okay after he tried to smuggle out a can of Lysol disinfectant in his anus from his local Walmart. Robert Hogan, 52, was seen entering the Tulsa area Walmart looking a bit "creepy" according to employees. Eyewitnesses say he roamed the aisles for a bit, then went to the restroom where he remained for nearly 45 minutes. That's when Hogan exited the restroom "very slowly, as if he was walking in pain."
The mugshot used in the NOT TRUE story actually comes from a 2014 story titled "Downstate Man Accused Of Molesting Rottweiler Puppy." What the what?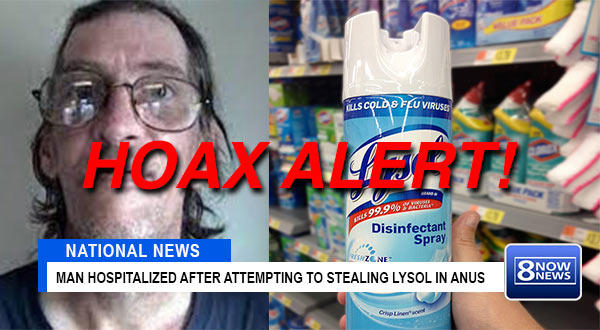 Lead Stories' Trendolizer™ is constantly scouring the web for the hottest news, viral videos and images.