The ubiquitous satirical fake news site The Resistance: The Last Line of Defence came out with another hoax article titled "BREAKING: Arnold Schwarzenegger Stripped Of US Citizenship, Indicted For Tax Fraud". It probably won't be long before it gets copied far and wide by the same network of fake news websites that keep pretending the site is a legitimate news website while stealing its content to make some money using shady advertising.
The hoax begins:
A lot of people look at Arnold Schwarzenegger as a conservative hero when he is, in fact, nothing but a RINO and a liberal. he drives a "green" Humvee, believes in a woman's right to murder her own baby and backed every big government bill and regulation the Democrats in California sent him as governor.

Now he's not so popular. After insulting President Trump and an investigation into his taxes, Arnold has been asked to voluntarily surrender his US passport and return to Austria while his citizenship in the United States is officially revoked for defrauding the US government.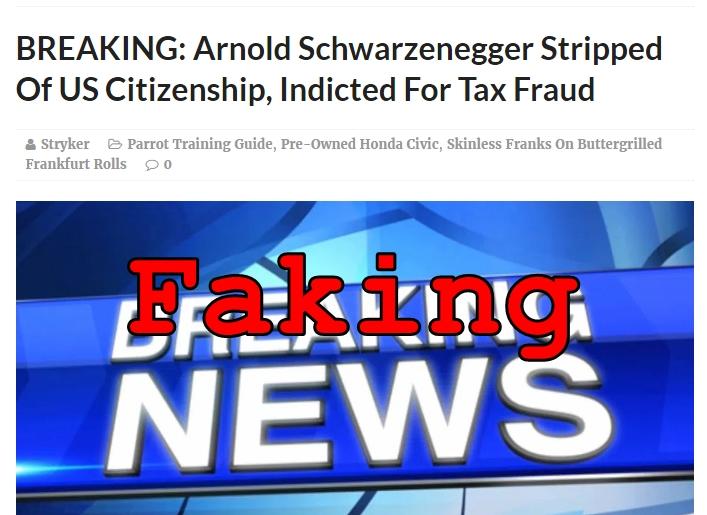 Of course the entire story is made up, including spokesperson Jeff Derringer who is quoted in the article as saying Schwarzenegger "got what he deserved".
How do we know this? Because we know how to read. The Resistance: The Last Line of Defense is a fake news website that carries following disclaimer on its about page:
DISCLAIMER: The Resistance may include information from sources that may or may not be reliable and facts that don't necessarily exist. All articles should be considered satirical and any and all quotes attributed to actual people complete and total baloney. Pictures that represent actual people should be considered altered and not in any way real.
The site also tends to include nonsensical phrases or insults hints in the list of "categories" under the article titles:

According to Buzzfeed the site was originally meant to troll conservatives with over the top satirical articles but now appears to be used as a 'source' by a large network of actual fake news sites (not related to the original creator) that all repost the same articles mentioning it as the source but not acknowlediging the satire disclaimer. This causes many people to believe the fake stories especially when they are being shared on social media where all context is removed and only the title, image and description remain. Sites in the network appear to include:
The story is pretty new and as you can see in the Trendolizer graph at the end of this article it hasn't been shared around much yet. But if you notice anyone spreading it around (or a copy from some other site) you can help by pointing them to this article here because nobody likes being taken advantage of by fake news.