A fresh day, a fresh hoax from The Resistance: The Last Line of Defense. The title of today's offering is "BREAKING: Trey Gowdy Just Had A Federal Judge Issue An Order To Exhume A Body" and naturally the army of fake news websites stealing content from this satirical website have already copied and spread the story as true. The story deals with the conspiracy theory surrounding the death of Vince Foster and the supposed involvement of the Clinton clan. It starts like this:
For the first time in history, a US Congressman has asked that a body be exhumed in connection with an investigation by a House intelligence committee. Judge Harmon Watson agreed to issue the order for a work crew in Fairfax, Virginia to exhume the body of Vince Foster for autopsy.

The order came just minutes after evidence turned up in the case of a murdered reporter who had an "if anything ever happens to me" letter delivered to his publication that implicated Hillary Clinton in a 23-year-old crime, which put it right around the time of Foster's supposed "suicide."
The image that goes with the article is actually from the 2014 exhumation of an unidentified victim of a truck crash that took place in 1991. That should be the first clue the article is not true.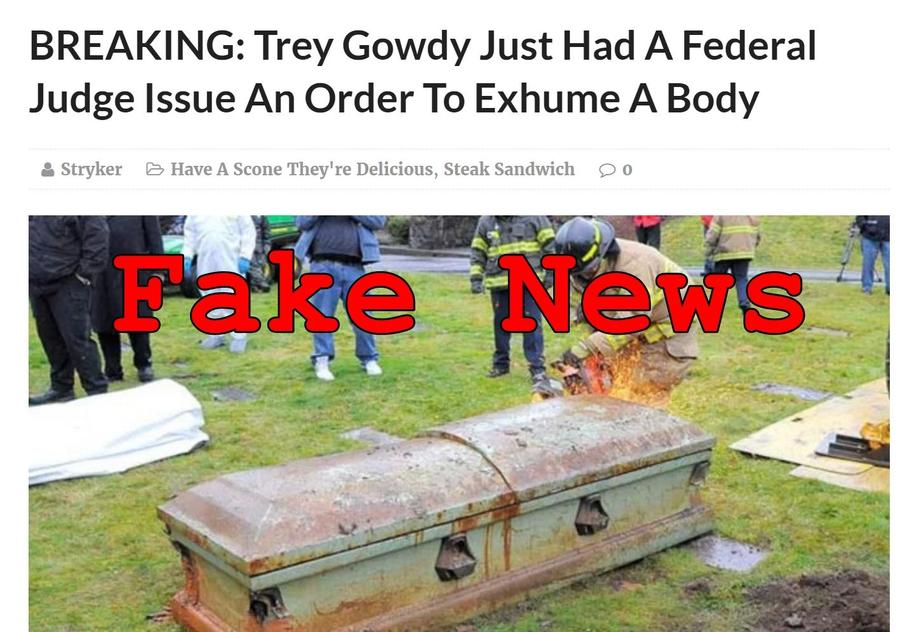 The second clue is that The Resistance: The Last Line of Defense is a known fake news website that carries following disclaimer on its about page:
DISCLAIMER: The Resistance may include information from sources that may or may not be reliable and facts that don't necessarily exist. All articles should be considered satirical and any and all quotes attributed to actual people complete and total baloney. Pictures that represent actual people should be considered altered and not in any way real.
The site also tends to include nonsensical phrases or insults hints in the list of "categories" under the article titles:

According to Buzzfeed the site was originally meant to troll conservatives with over the top satirical articles but now appears to be used as a 'source' by a large network of actual fake news sites (not related to the original creator) that all repost the same articles mentioning it as the source but not acknowlediging the satire disclaimer. This causes many people to believe the fake stories especially when they are being shared on social media where all context is removed and only the title, image and description remain. Sites in the network appear to include:
No other fact checking or hoaxbusting websites (like Snopes etc.) have debunked the story yet and it is being shared around widely as you can see in the Trendolizer graph at the end of this article. If you notice anyone spreading the rumor around you can help by pointing them to this article here because nobody likes fake news.