The fake news website "Departed" (currently at http://americanpresident.co) has posted a fake news article titled: "THE LARGEST MOSQUE IN EUROPE: WAS BURNING DOWN TODAY IN SOUTH LONDON" on March 25, 2017. It opens like this:
Ablaze: Pictured is the Baitul Futuh in Morden, South London, which is the largest in western Europe

Seventy firefighters in south London are battling an enormous blaze which engulfed western Europe's largest mosque.

Ten fire engines were dispatched to deal with the fire at the Baitful Futuh mosque in Morden, which started burning around midday.

A man has been taken to hospital for smoke inhalation, but community leaders have said they do not believe anybody else was affected. The cause of the blaze is not yet known.
The article is wrong for two reasons:
The Baitul Futuh Mosque is not the largest in Europe (that would be the Mosque of Rome according to Wikipedia, which seats 12.000 as opposed to 10.000 at Baitul Futuh).
The Baitul Futuh Mosque was not on fire on March 25,2017.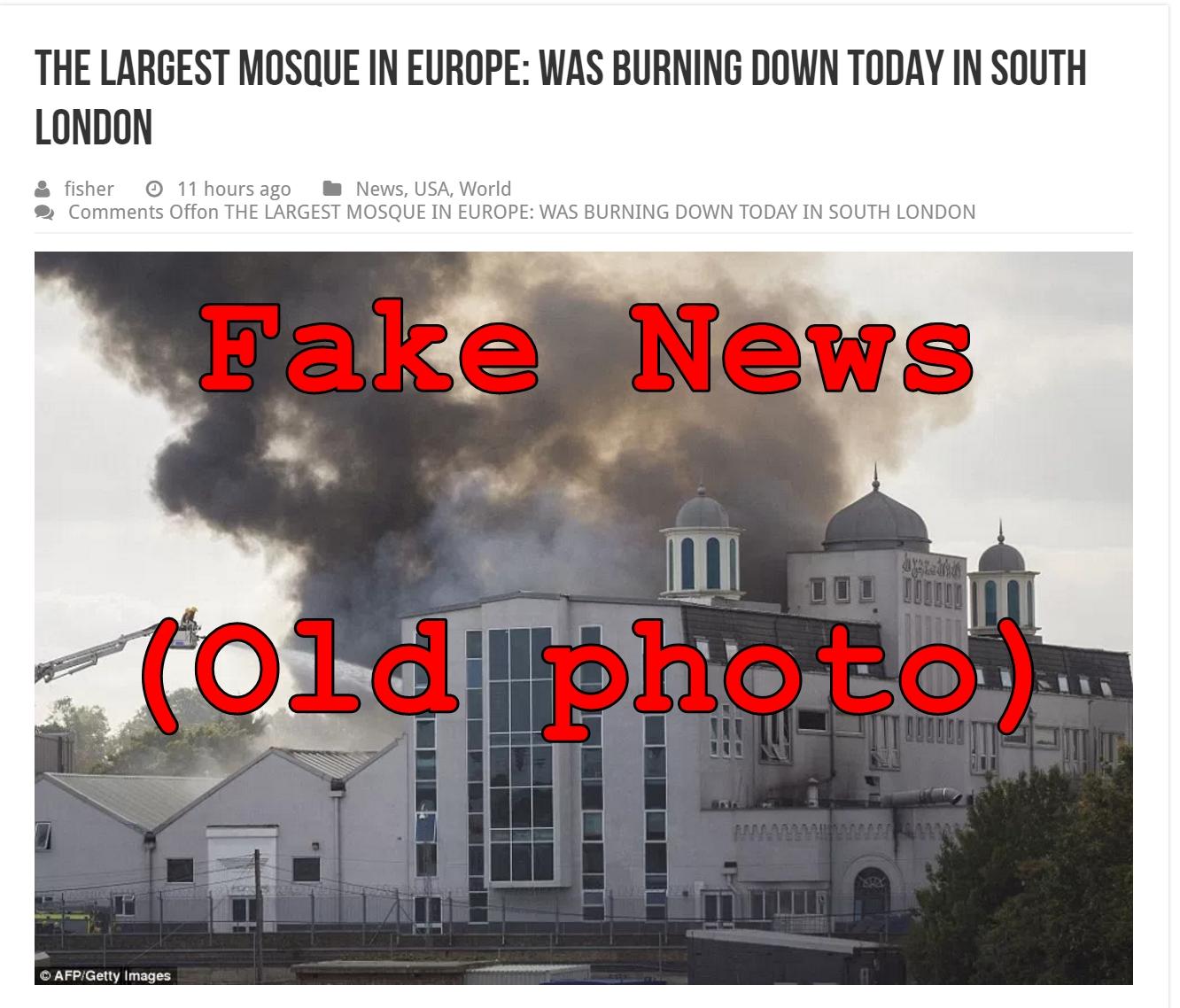 There was a fire at the mosque in question in 2015 as you can read in this Daily Mail article from which most of the text of the fake news article was simply copied including the photo captions. But the Daily Mail article also says:
As of 6pm, the London Fire Brigade said they had contained the fire to administrative buildings and halls around the main mosque, which was not directly affected by the fire - though it was engulfed by smoke. Shortly afterwards they declared the fire 'under control'.
That's not exactly what we would call "burning down".
The website americanpresident.co appears to be part of a network of similar sites designed to trick visitors with fake or exaggerated stories in order to drive clicks to various dodgy and scammy advertisers. Other sites in the network appear to include:
americansmaga.info
amposts.info
dailynewsposts.info
dcposts.info
departed.co
It is unclear who is behind the sites at the moment.
Meanwhile the story is being shared around widely as you can see in the Trendolizer graph at the end of this article. If you notice anyone spreading the rumor around you can help by pointing them to this article here because nobody likes being scammed into clicking ads by fake news.