Fake/satire site Politicops published a hoax article titled 'Tom Price: "It's Better For Our Budget If Cancer Patients Die More Quickly"'. Most of the facts in the story are not true. The article begins fairly innocuous:
Brian Kline is the type of person who voted for President Donald Trump in November. He's a working-class man whose job is in retail, scoring him $11.66/hour. Thanks to Medicaid he's being treated for cancer. During the CNN town hall with Health and Human Services Secretary Tom Price, Kline explained his situation and his struggles. "My question is pretty straightforward," Kline told Price. "Why do you want to take away my Medicaid expansion?" Price's dispassionate answer seemed to fall flat on the audience. "I took care of a lot of patients with cancer," Price explained about his 20 years as an orthopedic surgeon. "We don't want to take care away from anybody. What we want to make certain, though, is that every single American has access to the kind of coverage and care that they want for themselves."
It gets worse and worse from this point on with multiple fake quotes and things that aren't true or didn't happen, ending in this horrific fake Tom Price quote:
"At the risk of sounding insensitive, we've pretty much got two choices here: we either repeal Obamacare, or we take out more loans from countries like China. And nobody wants to be in debt to the Chinese. At the end of the day, it's better for our national budget if cancer patients pass away more quickly, it's a lousy way to live anyway, and I'm sorry to say it out loud, but it's the truth," Price concluded.
Fake quote? Politicops is part of a network of fake news websites under the 'Newslo' brand that calls itself a hybrid News/Satire platform according to their about page:
JUST ENOUGH NEWS... Newslo is the first hybrid News/Satire platform on the web. Readers come to us for a unique brand of entertainment and information that is enhanced by features like our fact-button, which allows readers to find what is fact and what is satire.

Newslo's "No Need to Satirize" brings you completely factual stories that are so ridiculous, they don't need our trademark touch. Whenever you see #NNTS, you're reading COMPLETELY real news that only seems too absurd to be true.
In practice this means their stories consist partly of facts and partly of made up quotes and events. By clicking a 'Show Facts' or 'Hide Facts' button at the top of an article readers can choose to highlight the factual bits.

When the 'Show Facts' button is clicked, only the first paragraph of the story is highlighted, meaning that all the other quotes attributed to Secretary Price in the text are completely made up.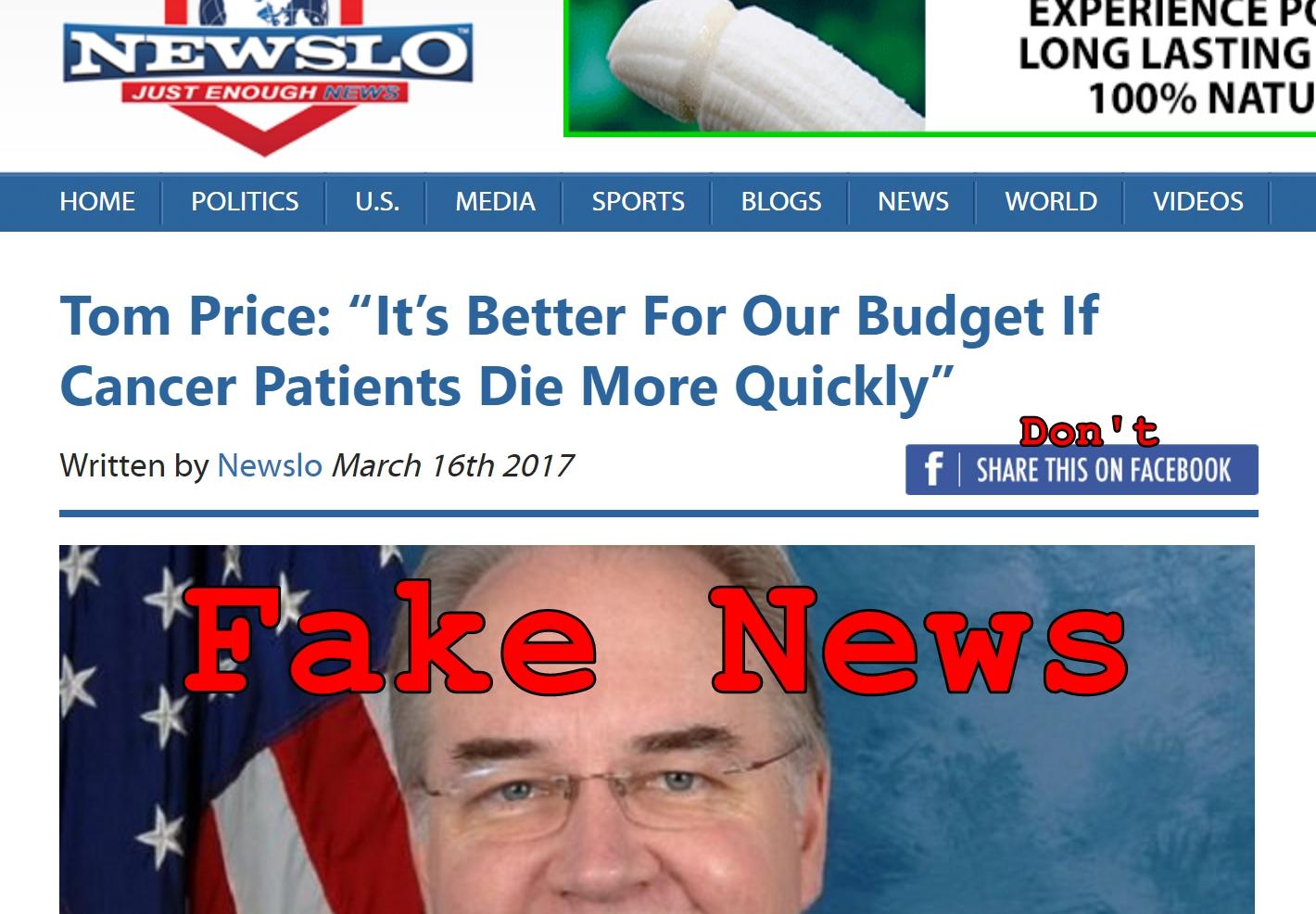 When stories from the site are shared on social media however only the title, description and thumbnail image are visible there without any further indication there might be non-factual content present. This leads many people to pass on the stories as factual without first checking the source.
That is probably why this story is being shared by many people as real, you can see a live count of the numbers in the Trendolizer graph at the end of this article. If you notice anyone spreading the hoax article around you can help by pointing them to this article here because nobody likes being mislead by fake news.