A website by the name of online.read-news.com has posted a fake article titled: "TP Mazembe Midfielder Rainford Kalaba is dead". The rumor is not true, there is no mention of it on the official site of TP Mazembe or on their official Facebook page. The fake article starts like this:
Rainford Kalaba, the captain of the Zambia National Football Team and the midfielder of Congolese club TP Mazembe has died, the club announces in a statement.

According to the statement, the 30 year old midfielder died of cardiac arrest.

Thousands are said to have gathered at the Lubumbashi city of Congo holding vigil for Kalaba.

Kalaba who signed a five-year contract with Braga in April 2008 joined TP Mazembe in 2011.
Local reports from the Zambian Eye have already contradicted the rumor (cache here in case the original site is down).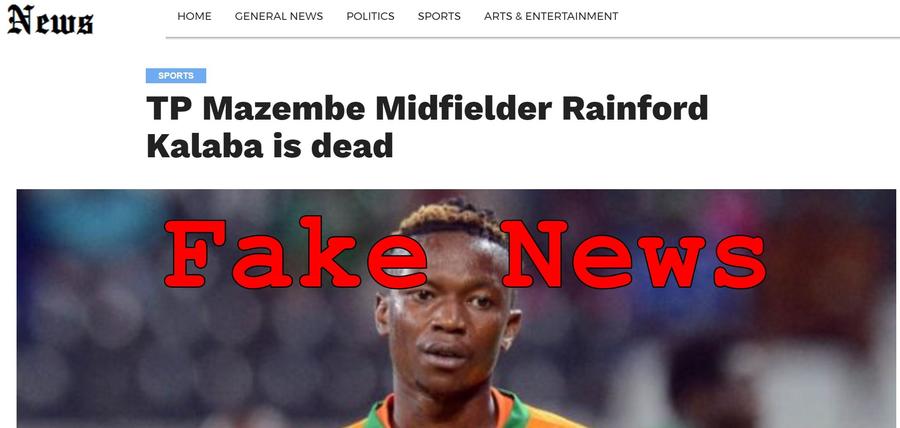 Furthermore online.read-news.com, the site spreading the hoax, appears to be part of a network of fake news websites that all have normal looking front pages with some generic news stories taken from other websites but which frequently publish hoax articles on other parts of the site that aren't immediately obvious to visitors. Some sites we've identified as seemingly being in the network so far include:
cbn-tv.com
cnn-channel.com
fox-news24.com
metro-uk.com
news.cbn-tv.com
online.read-news.com
states-tv.com
meganews360.com
parliaments.eu
These sites frequently post celebrity death hoaxes, stories about local restaurants serving human flesh and a variety of other untrue and made up articles.
Meanwhile the story is being shared around widely as you can see in the Trendolizer graph at the end of this article. If you notice anyone spreading the rumor around you can help by pointing them to this article here because nobody likes fake news.