Hot on the heels of an earlier hoax about the exhumation of Vince Foster the satirical fake news website The Resistance: The Last Line of Defense has come out with a sequel to their original fake story. The new article is titled: "BREAKING: Autopsy Results From Vince Foster's Exhumed Body-Cause Of Death To Be Changed" and it starts like this:
A string of events this week has led to incredible results in a 23-year-old case that had gone completely cold. After a reporter for The Washington Examiner was shot dead in front of his home and a letter was sent to his editor on his behalf, an investigation began into the death of Clinton attorney Vince Foster. Foster's death in 1993 had been ruled a suicide.

With new evidence, Rep. Trey Gowdy successfully petitioned a federal judge to have the body of Vince Foster exhumed for autopsy. The body wasn't autopsied before burial the first time, which aided in the theory of a cover-up. Forensic specialists examined the body last night at the Naval Hospital in Norfolk, Virginia, concluding that the cause of death for Mr. Foster should be changed from suicide to homicide.
Besides the fact that the exhumation did not take place there is something else wrong with this story: it claims there never was an autopsy while in fact one was conducted and you can even read it online here: http://www.washingtonpost.com/wp-srv/politics/special/whitewater/docs/foster.htm
But there is another reason why the story is definitely fake. The website which originally published it says so itself...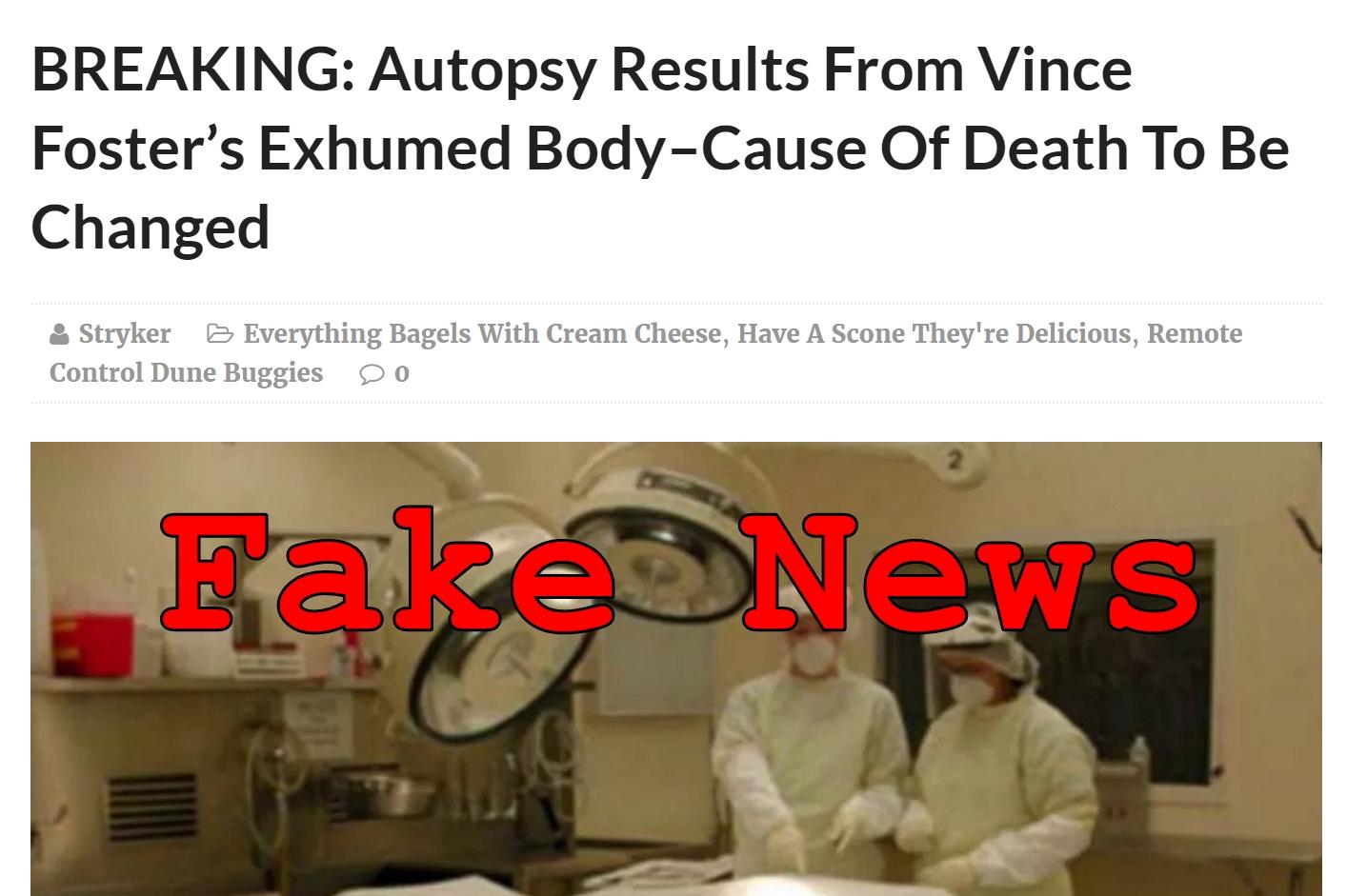 The Resistance: The Last Line of Defense is a fake news website that carries following disclaimer on its about page:
DISCLAIMER: The Resistance may include information from sources that may or may not be reliable and facts that don't necessarily exist. All articles should be considered satirical and any and all quotes attributed to actual people complete and total baloney. Pictures that represent actual people should be considered altered and not in any way real.
The site also tends to include nonsensical phrases or insults hints in the list of "categories" under the article titles:

According to Buzzfeed the site was originally meant to troll conservatives with over the top satirical articles but now appears to be used as a 'source' by a large network of actual fake news sites (not related to the original creator) that all repost the same articles mentioning it as the source but not acknowlediging the satire disclaimer. This causes many people to believe the fake stories especially when they are being shared on social media where all context is removed and only the title, image and description remain. Sites in the network appear to include:
You might have come across the story on these or on several other websites that blatantly copy articles from The Resistance: The Last Line of Defense while pretending it is a real news source. The original article got shared around a lot as well as you can see in the Trendolizer graph at the end of this article. If you notice anyone spreading the satirical piece as real news you can help by pointing them to this article here because nobody likes being duped by scammers aiming to get some advertising cash by pushing fake news.