It did not happen in Casselberry (Floriday), Pell City (Alabama) or Greenville (Mississippi), despite what several fake news websites are claiming. You might have encountered either of these three headlines:
The articles behind the headlines all were variations on the same text, making it highly unlikely that the events were real:
A [AGE]-year old [TOWN] woman is in custody after authorities were called to a property on [STREET] late last night to respond to a reported domestic disturbance. Upon arrival, the officers found a confronting scene. In the master bedroom, a [AGE]-year old man, and the husband of the accused woman, lay in a pool of blood with a gruesome wound to his groin.

"The male victim did not show any signs of consciousness and paramedics were called immediately," a source familiar with the matter told [WEBSITE]. After the paramedics arrived, the man was found to have had his penis and testicles 'cleanly severed' with a sharp instrument, believed to be a knife that was found on the bedside table. The wound was dressed and the victim was rushed to a nearby hospital, where he is now listed in a serious but stable condition.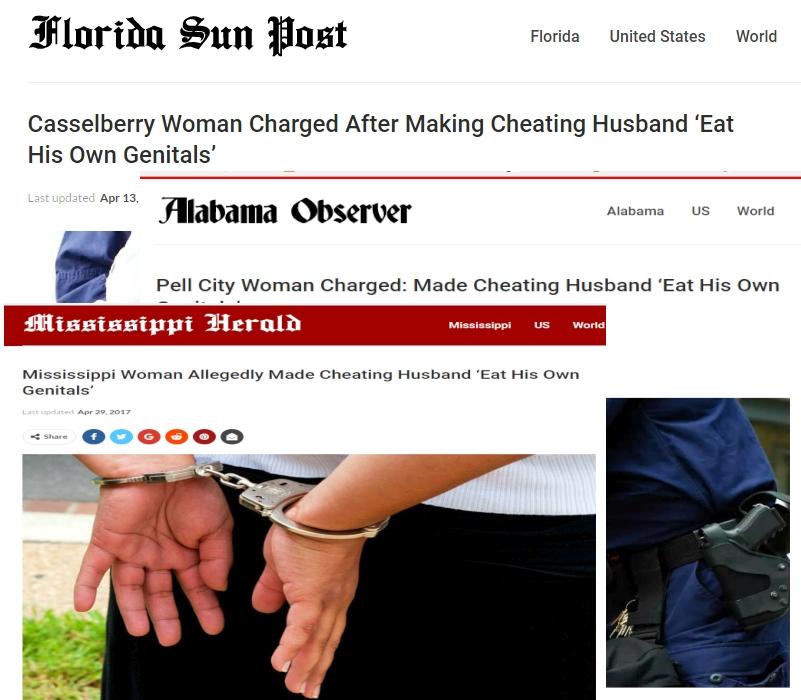 The articles were all published on a network of known fake news websites designed to look like local news outlets, probably owned by the same group or person since they all share the same Facebook page and/or Adsense ID:
http://alabamaobserver.com

http://mississippiherald.com

http://www.floridasunpost.com

http://battypost.com/

http://bostonleader.com
As you can see in the Trendolizer graph at the end of this article the latest version of the hoax is doing quite well online. If you notice anyone sharing the fake story or one of its other versions do send them here because nobody likes being made to read fake news.