STORY UPDATED: check for updates below.
An untrustworthy site by the name of ActionNews3 posted a hoax titled: "REMEMBERING AN ICON: HUGH HEFNER DEAD AT AGE 91" somewhere on July 11th 2017. It opens:
Hugh Hefner, Founder and chief creative officer of Playboy Enterprises, was found dead of natural causes Sunday morning at his home, the Playboy Mansion, in the Holmby Hills neighborhood of Los Angeles, according to Los Angeles police officer Jimmy N. Gardner. He was 91.

Last year Hefner sold the mansion for $100 million, the biggest home sale ever recorded in Los Angeles County. As part of the sale, Hefner was allowed to remain in residence for the remainder of his life; Playboy Enterprises agreed to pay $1 million a year to lease the property until his death.
No other reputable news outlets are reporting anything about the story and Hefner's Wikipedia page lists him as still being alive a day after the fake story was published. The ActionNews3 website lists no publication dates, authors or contact information so it can't be considered a credible source. It also shares an IP address (67.227.229.104) with now8news.com and news4ktla.com, both of which are known fake news websites.
It would also be strange for the Hugh M. Hefner foundation to just go ahead and announce the First Amendment Award Winners for 2017 just a day after their founder supposedly passed away without mentioning that fact, yet that is just what they did.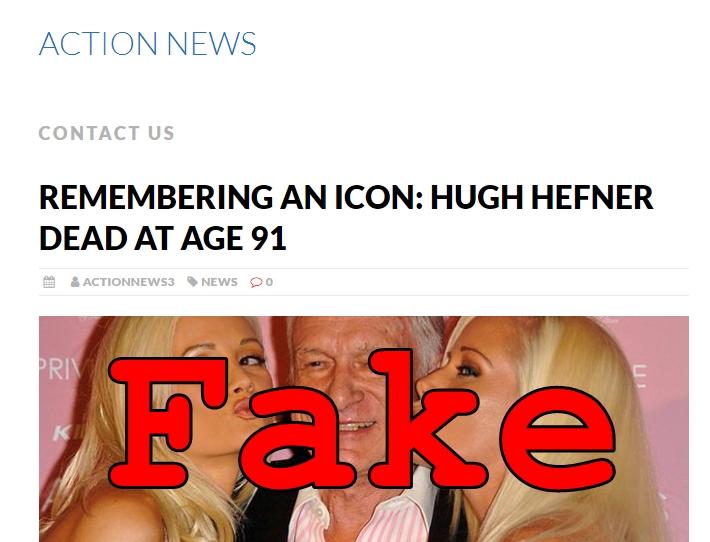 So we are going to go ahead and call this one fake news. The story seems to be taking off though as you can see in the Trendolizer graph at the end of this article. If you notice anyone spreading this bullshit around you can help by pointing them to this article here because nobody likes fake news.