A website named USPresidentTrump.com posted another Clint Eastwood death hoax (archived here) titled: "Bad News: Clint Eastwood Has Died At The Age Of 86 After Donald Trump Restricted His Film ,,American Sniper". Do You Still Support Trump's Politic?".
Calling it an article would be too much of an honor since the entire thing consists of that title and that same text repeated after an endless barrage of ads. There is no poll or vote to indicate if you "Still Support Trump's Politic" although there is a comment form. But we would advise strongly against trying to leave a comment since clicking literally anywhere on the site will open more ads, some of them of the dangerous type that try to trick you into installing all kinds of software which will then infect your device or PC with malware.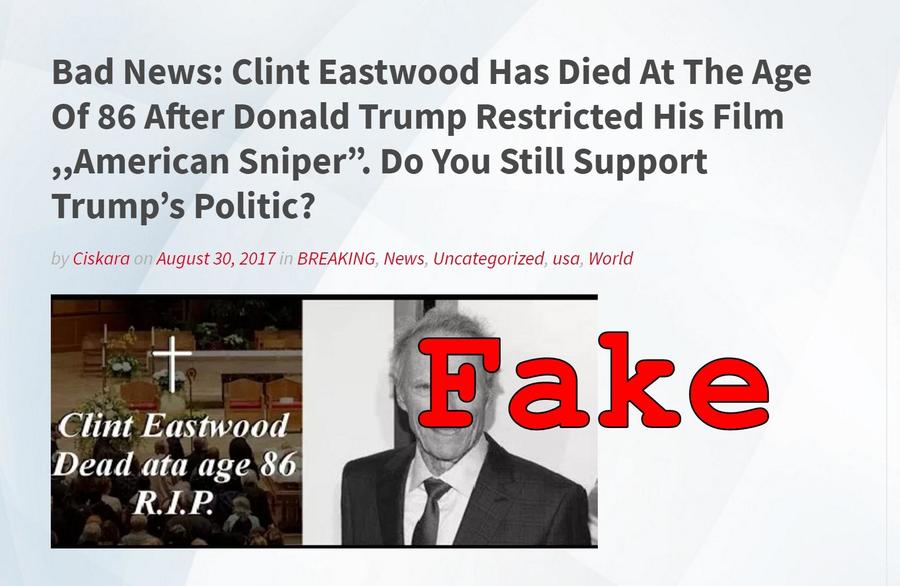 ("Dead ata age 86", right.)
No other reputable news sources are reporting on Clint Eastwood's death and we could not find any reference to President Trump ever restricting "American Sniper" in any way. So it is pretty safe to say this is fake news.
The website us-presidenttrump.com is actually the new domain name of americanpresidentdonaldj-trump.com, a fake news website that ran many similar scams before. Earlier incarnations of the website were usofficialnews.com and freedomwriters.pro. The site owners are probably renaming the site every now and then to avoid getting filtered by Facebook and other websites for being fake news and hoax spreaders.