A collection of known fake news websites have been peddling almost identical stories about Usain Bolt, Princes Harry and William, Manny Pacquiao And Floyd Mayweather and other celebrities donating huge amounts of dollars to help victims of hurricane Harvey.
UPDATE: Added Jigme Khesar Namgyel Wangchuck (the king of Bhutan) to the list.
Examples of the hoax stories:
Most of the stories use similar phrases, for example "To whom much is given, much is expected" and "thoughts and prayers are with our brothers and sisters in Houston".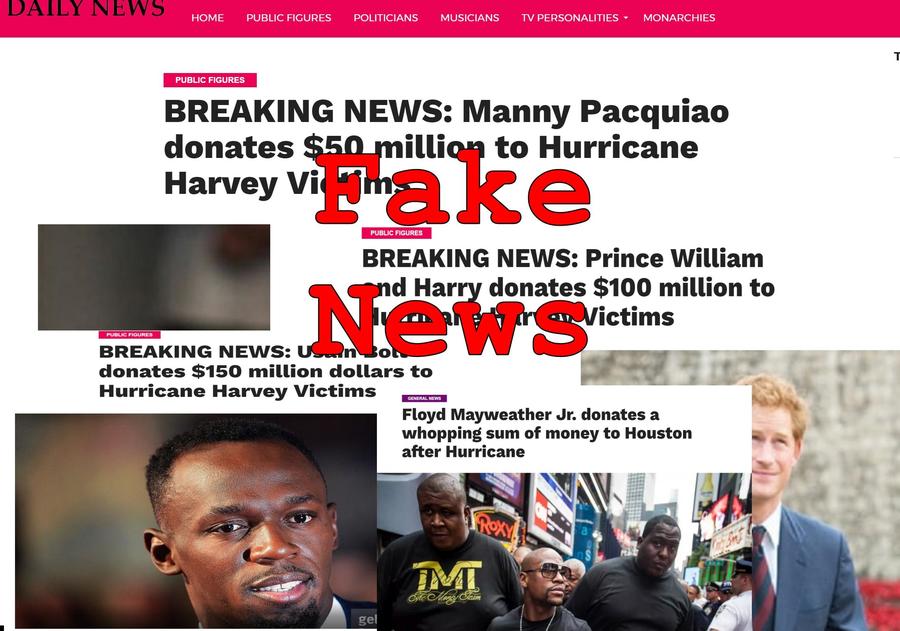 The sites all seem to be part of the same network of fake news websites that have innocent-looking main pages with generic news taken from other sources. The fake stories on the sites are never shown on the front pages. Some of the sites in the network include usa360-tv.com and houstonchronicle-tv.com but there are dozens of other sites which seem to follow the same pattern. We will update this post if we find more fake stories about celebrities donating whopping sums of dollars.