Fake news website Glonews360 published a hoax article titled "BREAKING: Driver dies, Julius Malema in an induced coma after gory car crash". It opened:
Police have confirmed that the leader of the South African political party, Economic Freedom Fighters, Julius Malema is in an induced coma after suffering dramatic injuries following a deadly collision in Pretoria last night.
The story is not true: no other legitimate news websites have reported on it. Malema's political party even tweeted a message to deny the story (and Malema has retweeted it):
The EFF dismisses reports that the CIC @Julius_S_Malema was involved in a road accident as malicious #FakeNews

-- EFF (@EFFSouthAfrica) August 27, 2017
The car crash image used with the story is actually from a 2016 car crash.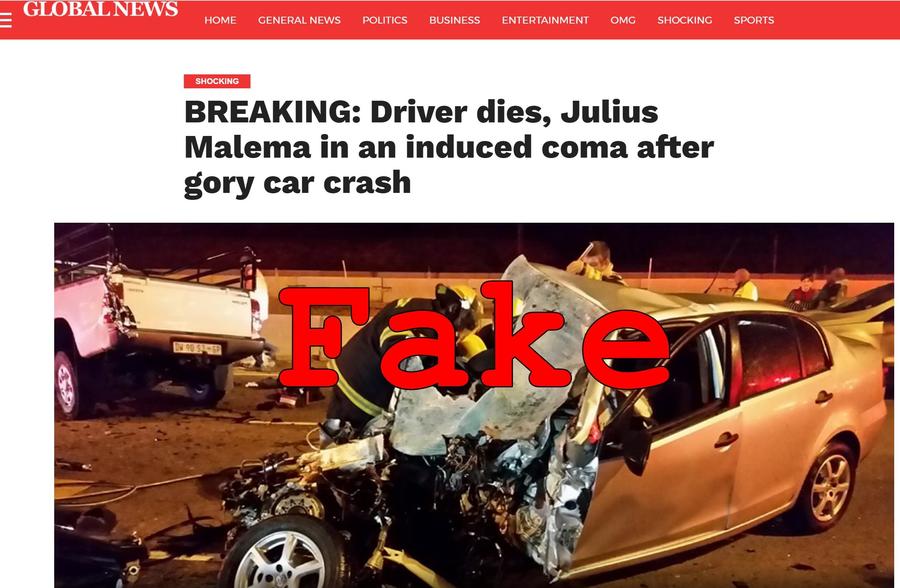 The website glonews360.com seems to be part of a larger network of fake news websites that have innocent-looking main pages with 'generic' news stories lifted from other websites but with fake news articles hidden in deeper parts of the site that are not accessible via the front page. It shares an IP address (23.229.190.72) with known fake news website metro-uk.com (which is not the same as real news website metro.co.uk) which in turn is promoted by the same Facebook page that was promoting now defunct fake news website theguard1an.com (which is not theguardian.com). According to information in Lead Stories' Trendolizer database the site is linked to dozens of other similar fake news websites.
So don't fall for this obvious scam and inform people who are spreading it on social media that they are helping spread fake news.