Fake news website National Insider Politics posted an article titled "Huge ARREST At Trump International Hotel - LOOK WHO WAS ARRESTED, THIS WILL MAKE YOU HAPPY" on August 18th 2017. It opened:
Palestinian-American activist Linda Sarsour, a Muslim with known ties to Hamas, was arrested for disorderly conduct on Wednesday after leading a protest outside Trump International Hotel in New York City.

Sarsour, who is executive director of the Arab American Association of New York, was given several warnings to disperse by the NYPD, but she ignored them all. The Washington Free Beacon reported that the officers had no choice but to arrest Sarsour and 12 of her fellow protesters after they refused to move.

Sarsour was spotted being removed from the scene in handcuffs.
This was followed by an embedded tweet with a video:
Linda Sarsour was just arrested outside Trump International for disorderly conduct. pic.twitter.com/SOais39G7L

-- Isaac Saul (@Ike_Saul) March 8, 2017
The problem is that this tweet dates from March 8th 2017, over four months ago. So saying on August 18th 2017 that Sarsour was arrested "on Wednesday" is kind of stretching the truth a bit, to the point of becoming fake news. It still might have made some readers happy so that part of the title could still be potentially accurate.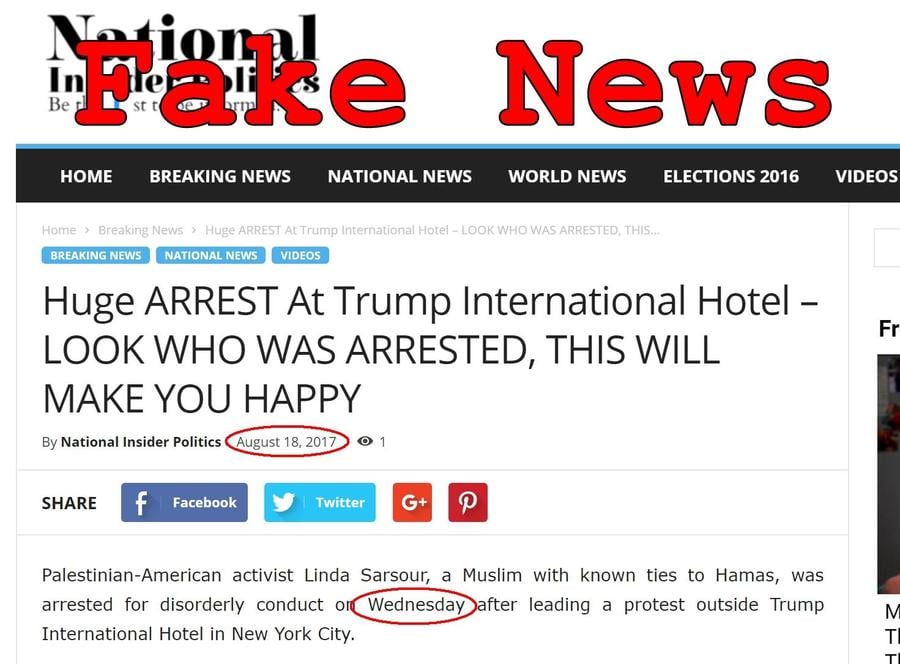 But that shouldn't surprise anyone who read the disclaimer page of National Insider Politics:
Disclaimers for http://www.nationalinsiderpolitics.com/:

All the information on this website is published in good faith and for general information purpose only. http://www.nationalinsiderpolitics.com/ does not make any warranties about the completeness, reliability and accuracy of this information.
I guess that means we can reliably say the article is not completely accurate, take it on good faith from us!