An unreliable site named NewsZA (aka. news24-channel.com) posted an article titled "BREAKING: Mugabe's son-Robert Mugabe Jr. dies in mystery poisoning in Joburg" which opened:
Robert Mugabe jnr, son to the president of the republic of Zimbabwe Robert Mugabe and first lady Grace Mugabe dies in Sandton, Johannesburg after throwing up blood.

According to the Police, Robert Jr. died after he was rushed to the Netcare Sunninghill Hospital in Sandton in a very critical condition.

Mugabe's boy, known in social circles for hanging out with a harem of trendy young ladies, drinking binges and alleged drug abuse, as well as splurging money like confett died from a condition doctors described as food poisoning.
We were unable to confirm the story actually happened as no reputable news sources are reporting on it. And there are several reasons why the story is most likely not real:
There is no publication date mentioned anywhere in or around the article.
The article has no author name listed.
The website that published the article seems to be designed to look like a local news website but doesn't actually list any address or contact information.
The Zimbabwe Herald has news of Mugabe conferring degrees on students at a university yesterday, so he doesn't appear to be in mourning or very worried at all.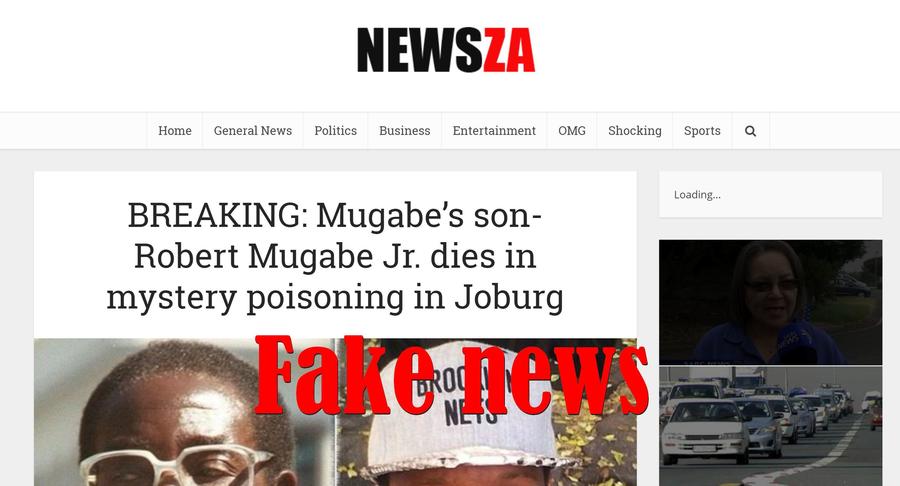 For all these reasons we think it is very unlikely that Mugabe Jr. is dead. We have contacted Sunninghill Hospital anyway just to be sure and we will update this article if we hear back from them.